Inside: Tantrums, tears, and kicks, oh my! If you've about had it, here's the best 18 month old schedule to crush the chaos (and hopefully curb the tantrums. 🤞)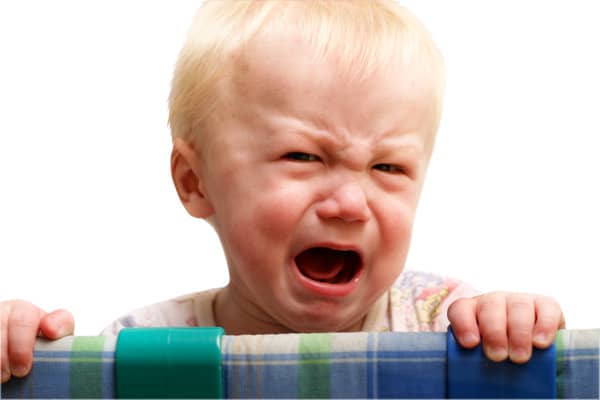 The kicks. The screams. The arching of the back because it's so. not. fair!
All this for a toy car…that is 2 feet away. 🤦‍♀️
Hey there, mama of a toddler. Odds are, you know exactly what I'm talking about. I've heard people say that 18 month olds are the sweetest and so eager to please. I don't buy it.
While yes, both of my boys were super sweet at 18 months old and yes, they could follow simple instructions…2 out of 2 boys were exceptionally difficult at this stage.
We dealt with tantrums over the littlest things. And patience that is extremely short — both for the child and for the parent.
Please note: This post may contain affiliate links, which means if you click a link and make a purchase, I will get a commission at no extra charge for you. I only recommend products I use and love.
Why a Schedule for Your 18 Month Old Is a Good Thing
As many parenting books are quick to tell you, toddlers thrive on routine. When my first son was 18 months old, we had no consistency or schedule. We lived day to day, dealing with tantrums and putting out fires.
I felt like I could never get ahead. Every day blurred into the next. The dishes were always dirty, and we always had a towering mountain of dirty laundry.
It wasn't until I started to implement a simple 18 month old schedule that things started to change.
We'll get into the exact 18 month old schedule that I used with my second son. But before we do that, let's talk about the difference between a routine and a schedule.
Related: Hate to clean? This is the best cleaning schedule.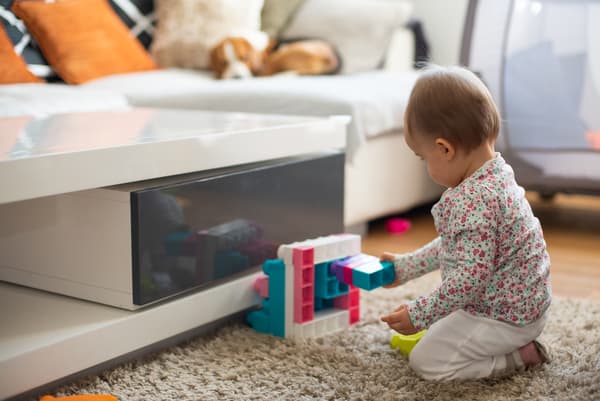 18 Month Old Schedule vs. Routine
There's this misconception between schedules and routines. A lot of times we use the terms interchangably, but there is a difference.
A routine means doing the same things in the same order.
A schedule means doing the same things in the same order at a specific time.
Did you notice that? A schedule is time based where as a routine is not. This might sound like a nit picky thing, but it matters a whole lot when it comes to toddlers.
You see, trying to get a small child to do anything in a timely fashion is as fruitless as herding cats. Every thing takes double or triple the time you think it should take.
And so, when it comes to setting up an 18 month old schedule, it's important not to get too hung up on scheduling your day down to the minute.
Check this out! 👉 Would you like to have a tidier home, more free time, more sanity AND time in your evenings to put together a healthy meal? Then be sure to grab this!
Focus on Blocks, Not Pin Points
Instead of creating the type of schedules you've seen elsewhere that schedule things down to 15 minute increments, I recommend setting up a schedule with blocks through out the day.
Here's what I mean.
Let's say your toddler wakes up at 7 a.m. and goes down for nap at 12 p.m. Instead of breaking this five hour chunk into 20(!) 15 minute increments, let's break it into a few small blocks:
7 a.m. Breakfast / Get ready for the day
8 a.m. Chores / Independent play / get ready to leave the house
9:30 a.m. Playdate
12 p.m. Lunch / Get ready for nap.
You can see that this morning routine has a soft schedule to it. You're not militantly switching activities every 15 minutes, but your toddler still has the safety and security of a routine.
Psst! If you're a work at home mom, check out these Work at Home Schedule Templates.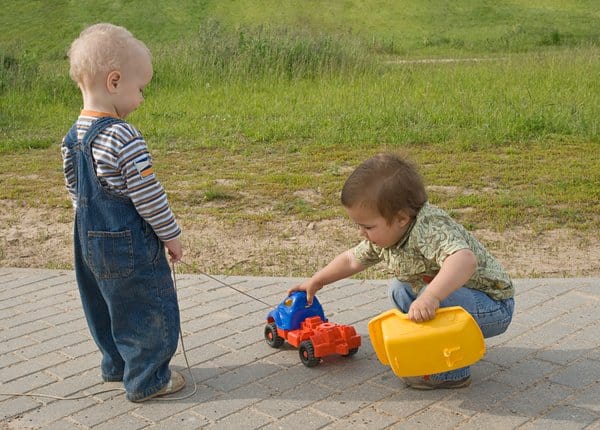 Here's the Best 18 Month Old Schedule to Crush the Chaos
Keeping the blocks in mind, here is our daily schedule for my 18 month old:
7 a.m. Morning block: Wake up, breakfast, get ready, chores, playtime, errands, or special activities.
11 a.m. Lunch
12 p.m. Naptime
2:40 p.m. Afternoon block: Play together, finish chores, run any other errands if needed.
5:30 p.m. Dinner
7 p.m. Bedtime routine for 18-month-old.
7:45 p.m. Evening Block
10 p.m. Go to sleep.
This is by far the best schedule we've ever used because it gives structure while also allowing for flexibility.

Related: How to make a stay at home mom schedule that works.

Want personalized help? Book a daily schedule review to get personalized help creating a daily schedule that works best for you and your family.

👉 Overwhelmed by a messy house and don't know where to start? Grab this free decluttering checklist and learn the one thing that's keeping you from decluttering your home.

Pin for Later