Are you the mom that is frantically looking to decrease the chaos and get some order around the house? You sit down with Google and Pinterest and open 20 tabs of stay at home mom routines and schedules to see what everyone else is doing and how on Earth they get anything done.
I hear ya, because I used to always be that frantic, overwhelmed mom grasping for any straws of normalcy (and I still feel that way occasionally). In this post, I share my stay at home mom routine, as well as giving you tips to customize it and make a routine work for you.
Schedules vs. Routines
Let's talk for a few minutes about the difference between schedules and routines. So often, we use the terms interchangeably. A routine means doing things in the same order over and over again. A schedule means doing things at a certain predetermined time.
Expecting a young child to do anything at a specific time can be as fruitless as herding cats. Yet, if we merely work based on routines, we can find ourselves wondering where the day went.
I like to do a mixture of both. While there are some things I like to keep to specific time (sleep and wake up times and meal times), everything else is easily moldable depending on our moods, the weather, and how much sleep we got the night before.
First, I will show you the detailed routine that I generally try to stick to. Then, I'll show you the blocks that make up that routine (the simplified routine).
Related: Being a mom is amazing…but also chaotic. Read my 5 best tips to declutter your life.
Daily Routine of a Stay at Home Mom with a 3 Year Old
7 a.m. Wake up
7:30 a.m. Breakfast
8:30 a.m. Get ready for the day:
Potty
Wash hands
Brush teeth
Take off pajamas
Pick out and put on clothes
9:00 a.m. Chores interspersed with playtime (Read this post to learn more about my weekly cleaning schedule.)
10:30 a.m. Special activity that we do (mostly) together
11 a.m. Lunch
12 p.m. Get ready for nap
12:45ish Nap
2:40 p.m. Wake/Play together
3:00 p.m. Independent play/finish up chores
4:30 p.m. Screen time
5:15ish Daddy arrives home
5:30 p.m. Dinner
7 p.m. Bedtime routine:
Potty
Wash hands
Brush teeth
Take off clothes
Put on pajamas
Turn on noise machine
Snuggle in bed and read a story/sing a song
7:30-7:45 p.m. Bedtime for 3 year old.
7:45 p.m. Watch TV/exercise.
9:15 p.m. Start getting ready for bed.
10 p.m. Go to sleep.
Disclosure: This post may contain affiliate links, which means if you click the link and purchase something, I would receive a commission at no cost to you. This helps support this blog and allows me to make free content. Thank you!
On days that we have errands or playdates, I try to schedule them in between getting ready in the morning and lunch time. Sometimes that works out, sometimes it doesn't. But it's easy to move around your schedule when you think of the events throughout the day as blocks.
Related: How decluttering helps you simplify your life.
Simplified Daily Routine of a Stay at Home Mom with a 3 Year Old
7 a.m. Morning block: Wake up, breakfast, get ready, chores, playtime, errands or special activities.
11 a.m. Lunch
12 p.m. Naptime
2:40 p.m. Afternoon block: Play together, finish chores, run any other errands if needed.
5:30 p.m. Dinner
7 p.m. Bedtime routine for 3 year old.
7:45 p.m. Free time.
9:15 p.m. Start getting ready for bed.
10 p.m. Go to sleep.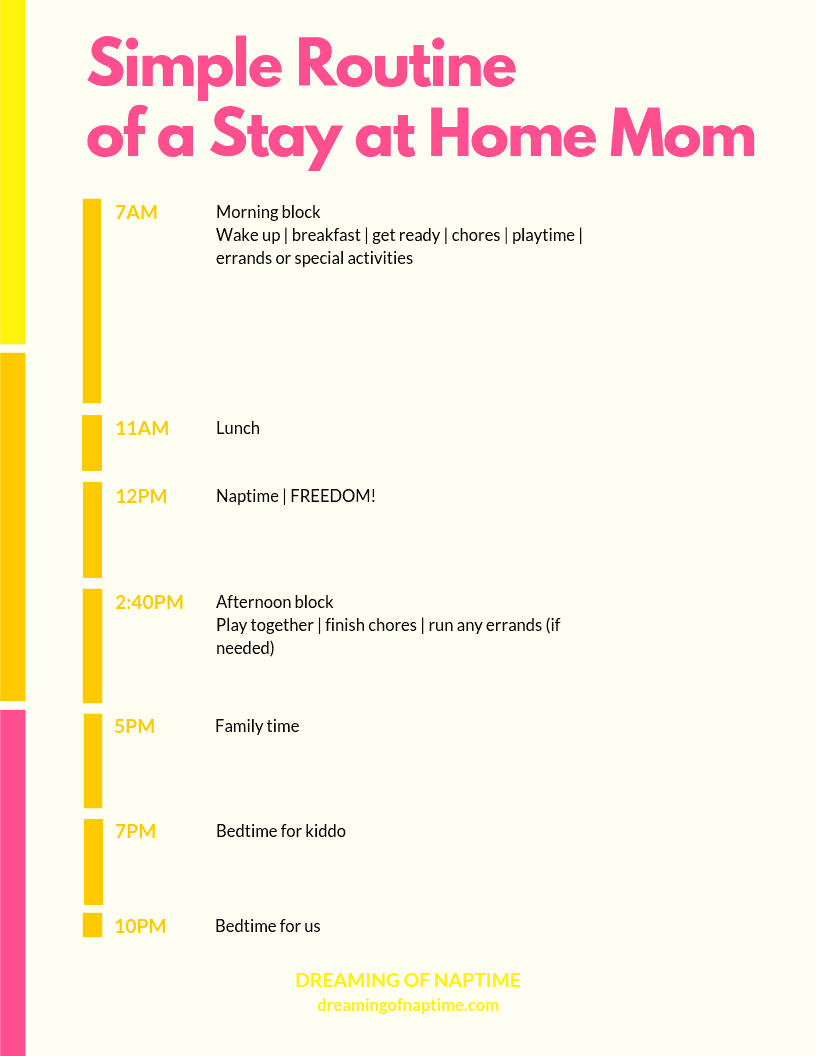 I use a planner to schedule in the specific activities or chores for that day, but I don't feel the need to micromanage every minute of every day. I don't know about you, but one of the huge selling points of becoming a stay at home mom was that I'd have more choice over how my days looked. If I'm on a roll, get all my chores done by 9 a.m. and decide to spend the rest of the morning at a park or hanging out with friends, great. If we're sick or had a rough night and it takes us until 11 a.m. to get ready for the day, that's fine too.
Blocks, not pin points
Think of your daily routine as blocks, not pin points. Schedule out a general idea of how you want the day to go, but roll with the punches if things change (and things always change with young children). Don't feel guilty if not every single moment is scheduled out. In fact, doing that is a great way to end up frustrated, angry and feeling like a failure.
My daily routine is just an example, as is every other stay at home mom routine you can find out there. Take the pieces that work for you and then customize it to your style, capabilities and kids' personalities.
I'd love to hear from you in the comments below. Do you have a schedule or routine? Do you find it easy or difficult to stick to it?
If you liked this post, you'll love…
Pin for later…