Inside: Do you frantically run around trying to get some control in the chaos? I've been there. Here's the best 3-year-old schedule that works.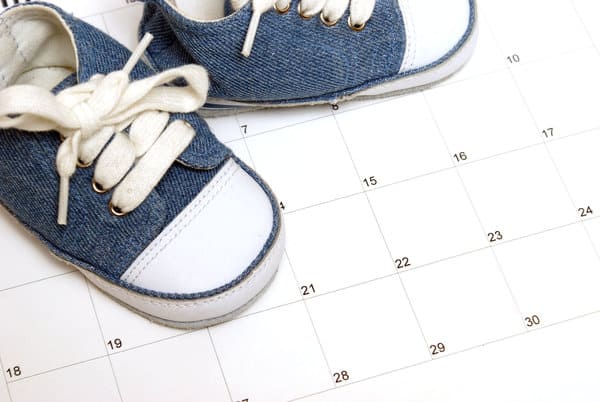 I was that mom. You know her: the one frantically running around and drowning in chaos. Sitting down with Google and Pinterest, I opened 20 tabs of 3-year-old schedules to see what everyone else was doing and how on earth they got anything done.
And yet, the more I researched, the more overwhelmed I felt. It seemed like everyone was baking cookies, going on excursions, and teaching their kids to speak Chinese. Meanwhile, I scrambled to get my son down for a nap, often forgot about laundry and had to set a timer to remind myself to cook dinner…every day.
I thought there was something wrong with me. Worse, I thought the chaos of my life was a sign I wasn't a worthy mom, wife, or friend.
If you're overwhelmed with the day-to-day busyness of life, hear this: Raising little kids is so much work, but it doesn't have to be chaotic. Putting a 3-year-old schedule in place can help you get control of your life.
Please note: This post may contain affiliate links, which means if you click a link and make a purchase, I will get a commission at no extra charge for you. I only recommend products I use and love.
Let's Talk About Schedules vs. Routines
Let's talk for a few minutes about the difference between 3-year-old schedules and routines. So often, we use the terms interchangeably.
But there's a key difference that can be the difference between thriving and barely surviving. What's the difference?
A routine means doing things in the same order over and over again. A schedule means doing things at a certain predetermined time.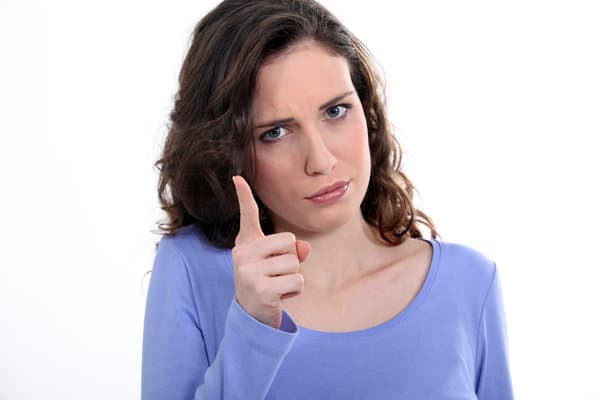 Did you catch the difference? A schedule means you expect things to happen at a specific time.
Expecting a young child to do anything at a specific time can be as fruitless as herding cats. That's the problem with creating a schedule for a 3-year-old.
On the flip side, if we don't keep an eye on the clock, we can end up wondering where the day went and finding we got nothing done. That's the problem with routines.
Instead of doing one or the other, we're going to do a mixture of both. Keep some things to a specific time (sleep and wake up times and mealtimes) and allow the rest to be flexible depending on your child's mood, the weather, and how much sleep you got the night before. 😴
First, I will show you the detailed schedule I generally try to stick to. Then, I'll show you the blocks that make up the routine (the simplified routine).
Check this out! 👉 Would you like to have a tidier home, more free time, more sanity AND time in your evenings to put together a healthy meal? Then be sure to grab this!
Daily Schedule for a 3-Year-Old
7 a.m. Wake up
7:30 a.m. Breakfast
8:30 a.m. Get ready for the day:
Potty
Wash hands
Brush teeth
Take off pajamas
Pick out and put on clothes
9:00 a.m. Chores interspersed with playtime (Read this post to learn more about my stay-at-home mom cleaning schedule.)

Also…have you ever wanted to have a clean, organized, and peaceful home without having to do all the work yourself? Then check out the Smart Kids Chore System!

10:30 a.m. Special activity we do (mostly) together
11 a.m. Lunch

👉 Overwhelmed by a messy house and don't know where to start? Grab this free decluttering checklist and learn the one thing that's keeping you from decluttering your home.


12 p.m. Get ready for a nap
12:45ish Nap
2:40 p.m. Wake/Play together
3:00 p.m. Independent play/finish up chores
4:30 p.m. Screen time
5:15ish Daddy arrives home
5:30 p.m. Dinner
7 p.m. Bedtime routine:
Potty
Wash hands
Brush teeth
Take off clothes
Put on pajamas
Turn on the noise machine
Snuggle in bed, read a story and sing a song
7:30-7:45 p.m. Bedtime for 3-year-old.
7:45 p.m. Watch TV/exercise.
9:15 p.m. Get ready for bed.
10 p.m. Go to sleep.
On days we have errands or playdates, I try to schedule them in between getting ready in the morning and lunchtime. Sometimes that works out, sometimes it doesn't. But it's easy to move around your schedule when you think of the events of your day as blocks.
Want personalized help? Book a daily schedule review to get personalized help creating a daily schedule that works best for you and your family.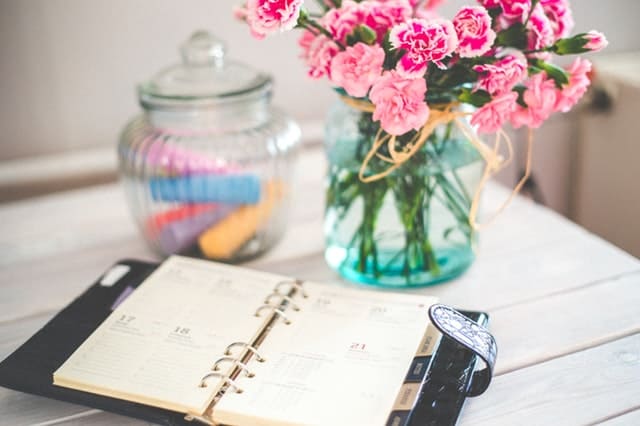 Simplified Daily Routine of a Stay-at-Home Mom with a 3-Year-Old
So, while the schedule above is what I shoot for, is that what happens on a regular basis? Heck no!
Why? Well, first and foremost, I'm dealing with a 3-year-old who sometimes has a mind of his own and would rather not do things on my timeline.
You know, like sometimes he throws a tantrum about wearing his watch on his ankle or that he's not tired (as he rubs his eyes sleepily). 🤷‍♀️
Because of these sporadic changes, I found myself struggling to adapt. I'd get to the end of the day and berate myself for not folding three loads of laundry or clearing off the kitchen table — and give myself no credit for the meltdowns I tended to or the boo-boos I kissed.
And so, rather than thinking of my 3-year-old's schedule as a strict schedule with deadlines (as you would in a business), I thought of my schedule as blocks of time.
7 a.m. Morning block: Wake up, breakfast, get ready, chores, playtime, errands or special activities.
11 a.m. Lunch
12 p.m. Naptime
2:40 p.m. Afternoon block: Play together, finish chores, run any other errands if needed.
5:30 p.m. Dinner
7 p.m. Bedtime routine for 3-year-old.
7:45 p.m. Evening Block
10 p.m. Go to sleep.
Psst! If you're a work at home mom, check out these Work at Home Schedule Templates.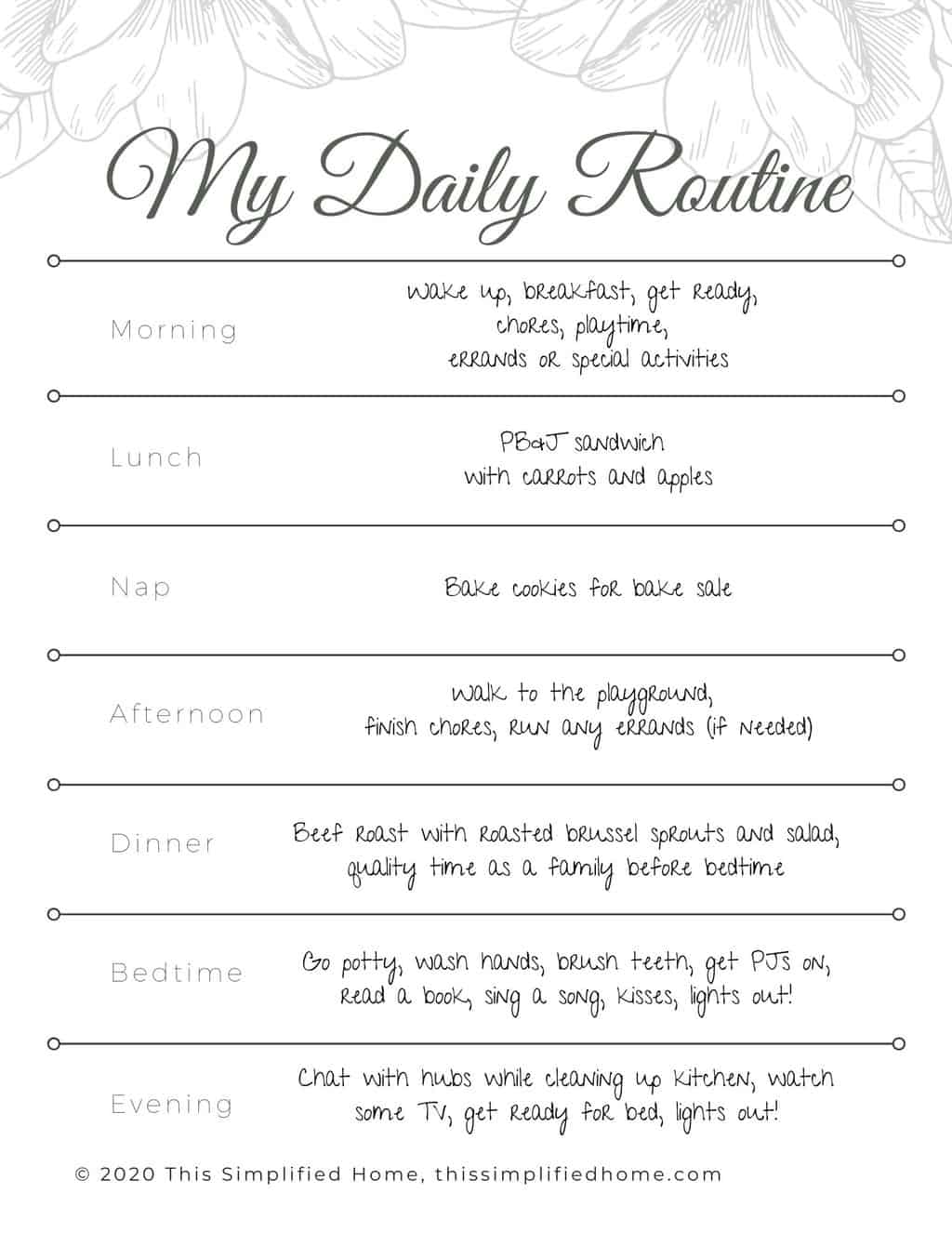 Blocking Out Your 3-Year-Old's Schedule
Think of your daily routine as blocks, not pinpoints. Schedule out a general idea of how you want the day to go, but roll with the punches if things change (and things always change with young children).
Don't feel guilty if not every single moment is scheduled out. In fact, doing that is a great way to end up frustrated, angry and feeling like a failure.
I use a planner to schedule specific activities or chores for the day, but I don't feel the need to micromanage every minute of every day. I don't know about you, but one of the huge selling points of becoming a stay-at-home mom was having a choice over how my days looked. 
✨Take the challenge and be transformed to being a confident, capable executive of your home (instead of the servant). Sign up here.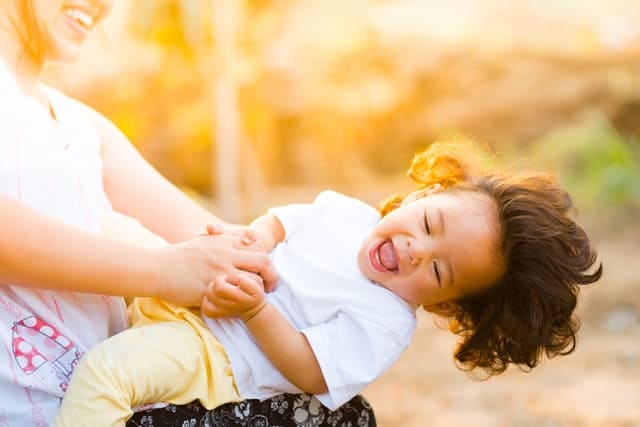 If I'm on a roll, get all my chores done by 9 a.m. (it happen some times! 😂) and decide to spend the rest of the morning at a park or hanging out with friends, great! If we're sick or had a rough night and it takes us until 11 a.m. to get ready for the day, that's fine too.

Think of it like building a house. The walls of the house are there, but it's your decision what you want to put in it. Same with your 3-year-old's schedule. The blocks are similar to the walls, and you can put whatever you want in each block.

Some morning blocks may have chores and playing at home; other morning blocks could include a playdate or activity out of the house.

By putting a schedule in place that still allows flexibility from day to day, you set yourself up for success. The blocks are the framework that makes it easier to schedule chores, fun activities, and personal passions.

You got this! You can put a 3-year-old schedule in place that crushes overwhelm and helps you get control of your life. It creates space for you to do things that are important to you.

Just one little favor…when you find you have so much free time, you decide to bake a batch of cookies on a whim, don't forget to invite me over! 😋🍪

👉 Overwhelmed by a messy house and don't know where to start? Grab this free decluttering checklist and learn the one thing that's keeping you from decluttering your home.

Pin for later…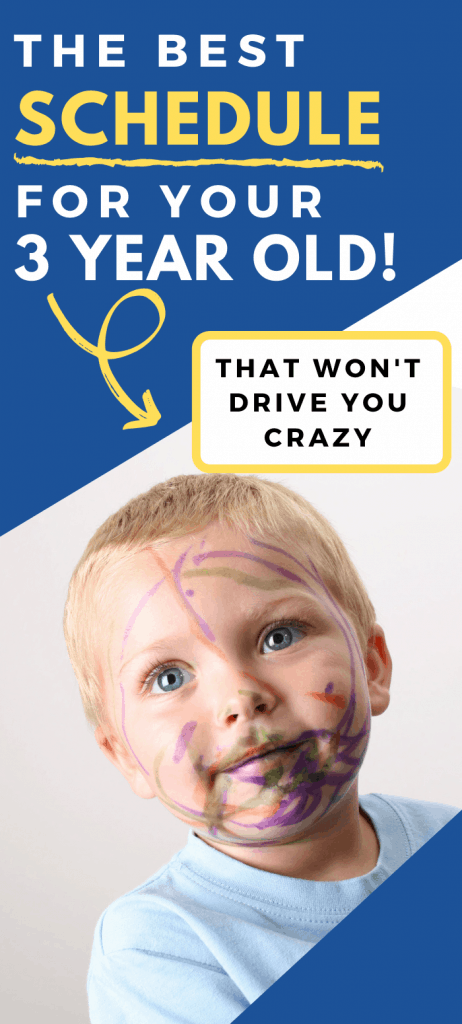 If you liked this post, you'll love…