Inside: If you're looking for the ultimate declutter your home checklist, you've found it! Use this as a guide to avoid overwhelm when decluttering.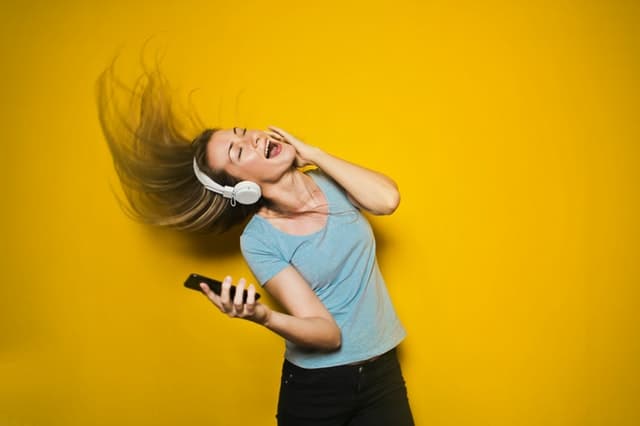 I love to dance. Any time. Anywhere. I'll bust a move in the middle of the supermarket or waiting in the carpool pick up line. (My 4-year-old thinks I'm cool. 😎)
Moving my body to the groove makes me happy. It lights up my soul.
You know what I don't love? Clutter. Oh, and decluttering.
This is quite a conundrum, one you might find yourself in. What do you do when you hate clutter but hate to declutter?
First, declutter in small chunks. You may have seen a few posts on the internet about how to declutter your entire home in a short amount of time: say…a day, a weekend, or a month.
Y'all, I'm here to tell you, if you can declutter your entire home in a weekend, you don't have a cluttered home.
If your home looks like someone bought all the contents of a going-out-of-business Toys'R'Us and dumped it on your living room floor, I'm talking to you.
Below, I've racked my brain to think of all the items you would commonly go through to declutter. Take a glance at the list and read through my best tips on how to tackle your clutter.
What to grab this declutter your home checklist as a PDF that you can print out? Then click the big orange button below.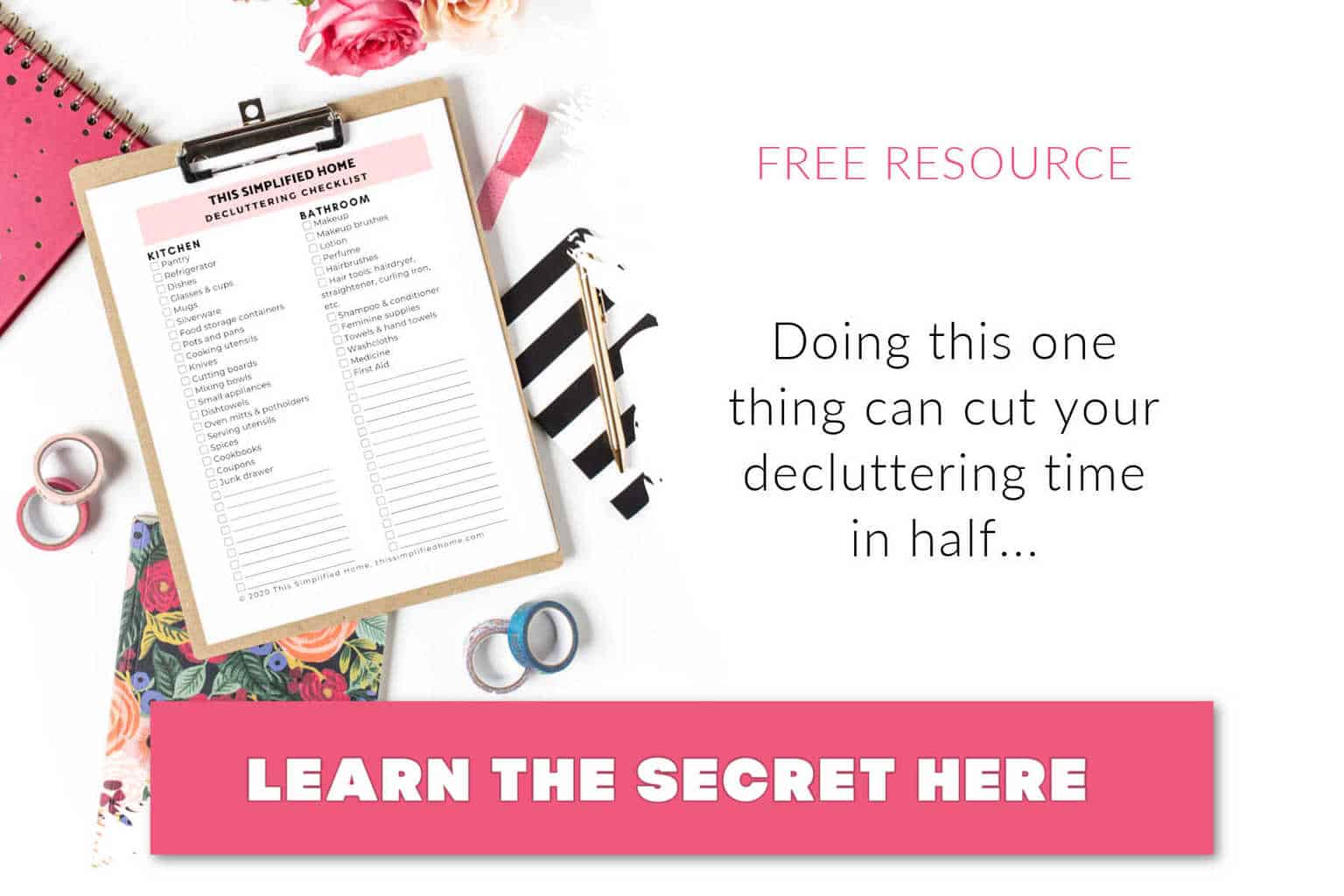 The Ultimate Declutter Your Home Checklist
Here's a list of suggested items to go through. Use what applies to your home and life and skim over the ones that don't.
Kitchen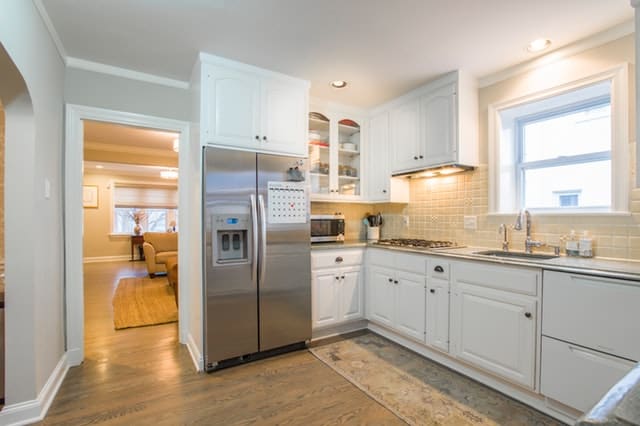 Pantry
Refrigerator
Dishes
Glasses & cups
Mugs
Silverware
Food storage containers
Pots and pans
Cooking utensils
Knives
Cutting boards
Mixing bowls
Small appliances
Dishtowels
Oven mitts & potholders
Serving utensils
Spices
Cookbooks
Coupons
Junk drawer
Read more: 5 Easy, Peasy Tips to Declutter Your Life
Bathroom
Makeup
Makeup brushes
Lotion
Perfume
Hairbrushes
Hair tools: hairdryer, straightener, curling iron, etc.
Shampoo & conditioner
Feminine supplies
Towels & hand towels
Washcloths
Medicine
First Aid
Living/Family room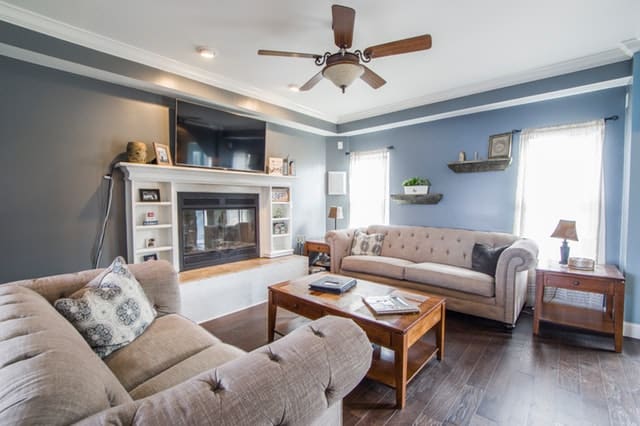 DVDs & BluRays
Video games
Books
Magazines
Newspapers
Knick Knacks
Playroom
Board games
Puzzles
Craft supplies
Books
Sort toys into categories. Go through one category at a time.
Related: How to Declutter Toys in 8 Easy Steps
Bedroom
Bedsheets
Blankets
Nightstands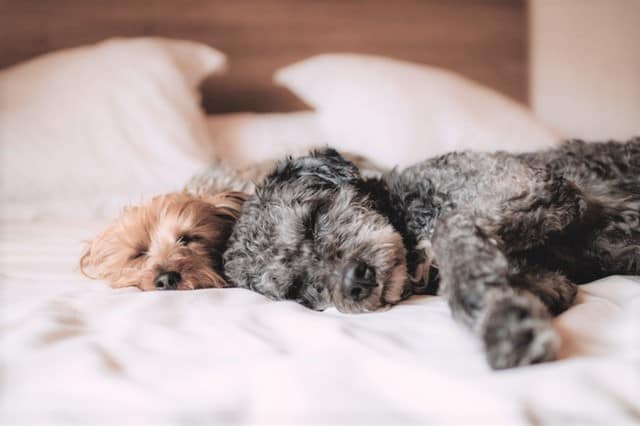 Wardrobe
Shirts
Pants & shorts
Dresses
Pajamas
Exercise clothes
Undies
Socks (throw out holey ones!)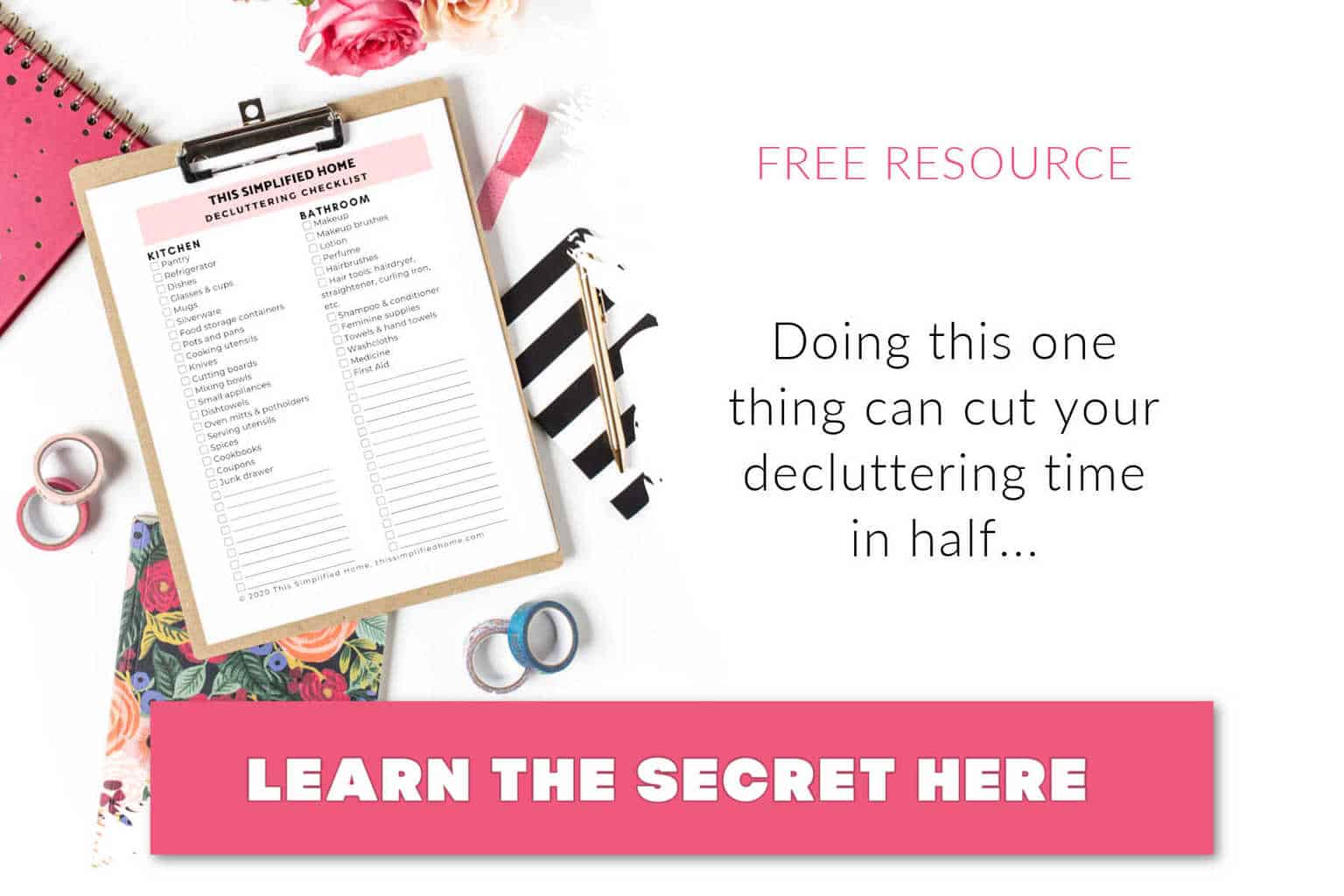 Wardrobe accessories
Shoes
Belts
Handbags
Jewelry
Fashion scarves
Sunglasses
Hats
Unused hangers
Entryway closet
Jackets
Winter apparel: hats, scarves & gloves
Learn more: The Quick And Easy Way to Organize Donations
Cleaning
Cleaning supplies: glass cleaner, all-purpose cleaner, bleach, white vinegar, etc.
Cleaning tools: vacuum, broom, mop, duster, etc.
Laundry detergent
Office
Junk mail
Tax information
Paid bills
Receipts
Writing utensils
Notepads
Sticky notes
Electronic cords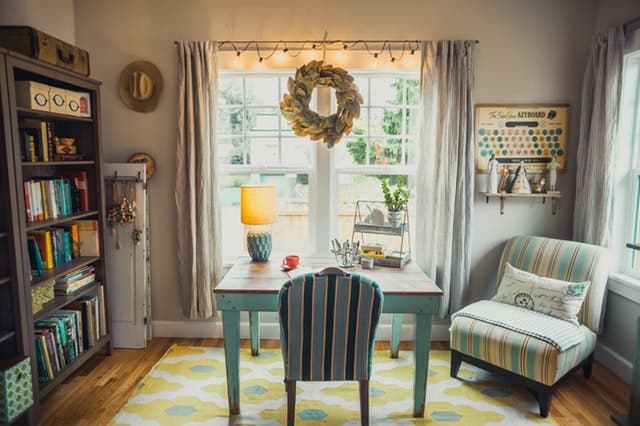 Home Maintenance
Lightbulbs
Tools
Nails & screws
Batteries
Flashlight
Outdoor supplies
Holidays & Celebrations
Decorations
Paper plates, napkins, etc.
Tablecloths
Placemats
Cloth napkins
Costumes
Wrapping paper
Miscellaneous
Add areas and items unique to your lifestyle. This may be an in-law suite, a formal living room or a craft room packed with all. the. things. 😉
Help me out: If you feel I missed something obvious, let me know in the comments below, and I'll add it to the list! Thanks!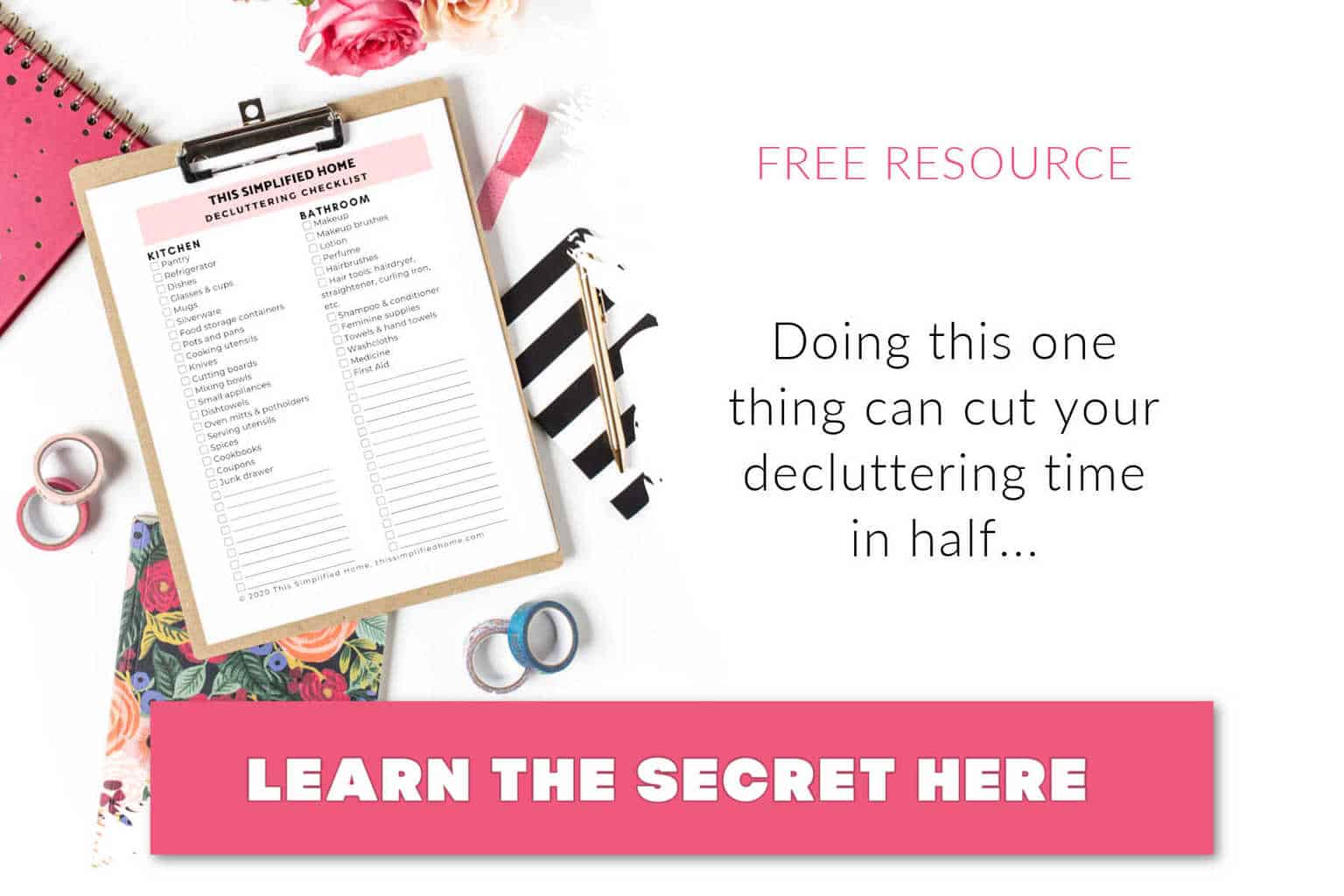 4 Quick Steps to Implement the Declutter Your Home Checklist
A checklist is useless if you don't use it. Here are some quick tips to help you get to work on your declutter your home checklist.
Break each project into tiny tasks.
Each item on your checklist should take no more than 15 minutes to do. When you break giant projects into tiny tasks, you're able to fit decluttering into the fringe areas of your day.
You can easily break projects into small tasks by downloading the Declutter Your Home Checklist. (It's free!) Just fill out the form at the bottom of this post.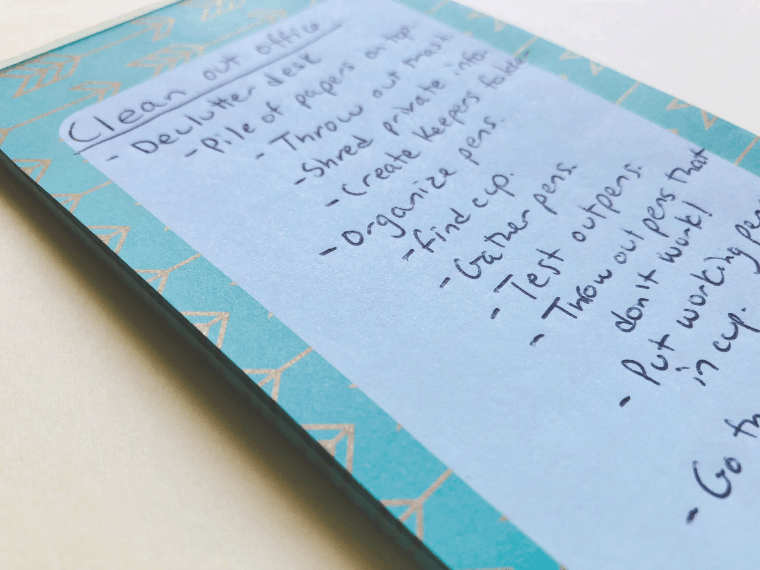 Schedule a time to be consistent.
When is a time you have a spare 15 minutes to devote to decluttering every day? This might be when you first wake up or after the kids go to bed.
It's easier to build a habit if you do it at the same time every day, but don't stress if this is not possible. What's important is you make time in your schedule for decluttering.
Want to get more things done? My favorite planner, the Living Well Planner, helps me plan out my week so I get things done without feeling overwhelmed.
Focus on progress, not perfection.
Don't stress over being perfect. Perfection is an impossible standard. Instead, focus on how much progress you're making.
Give yourself grace.
Miss a few days or a few weeks? No worries. Pick up where you left off and focus on making small, consistent steps.
The same applies if you lose interest in an area. If you find yourself thinking if you see one more spatula, you might just scream, move onto another area.
No one says it has to be done in a particular order. What matters is what will motivate you to keep going.
You can do this!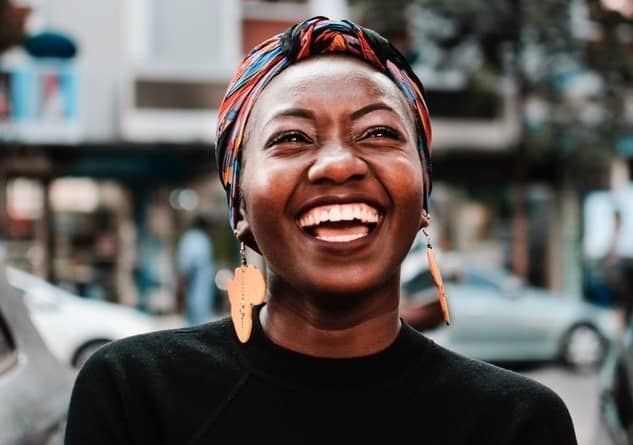 I know what it feels like to hopelessly stand kneedeep in a pile of clutter. You think you'll never see the end of it.
But I'm living proof anyone can declutter their home by taking teeny tiny steps. I believe you can do the same.
Regardless of your marital, financial or living situation, taking simple steps every day will get you closer to your goal.
As the saying goes…how do you eat an elephant? One bite at a time.
Break your giant decluttering project into small, manageable tasks and take one step at a time.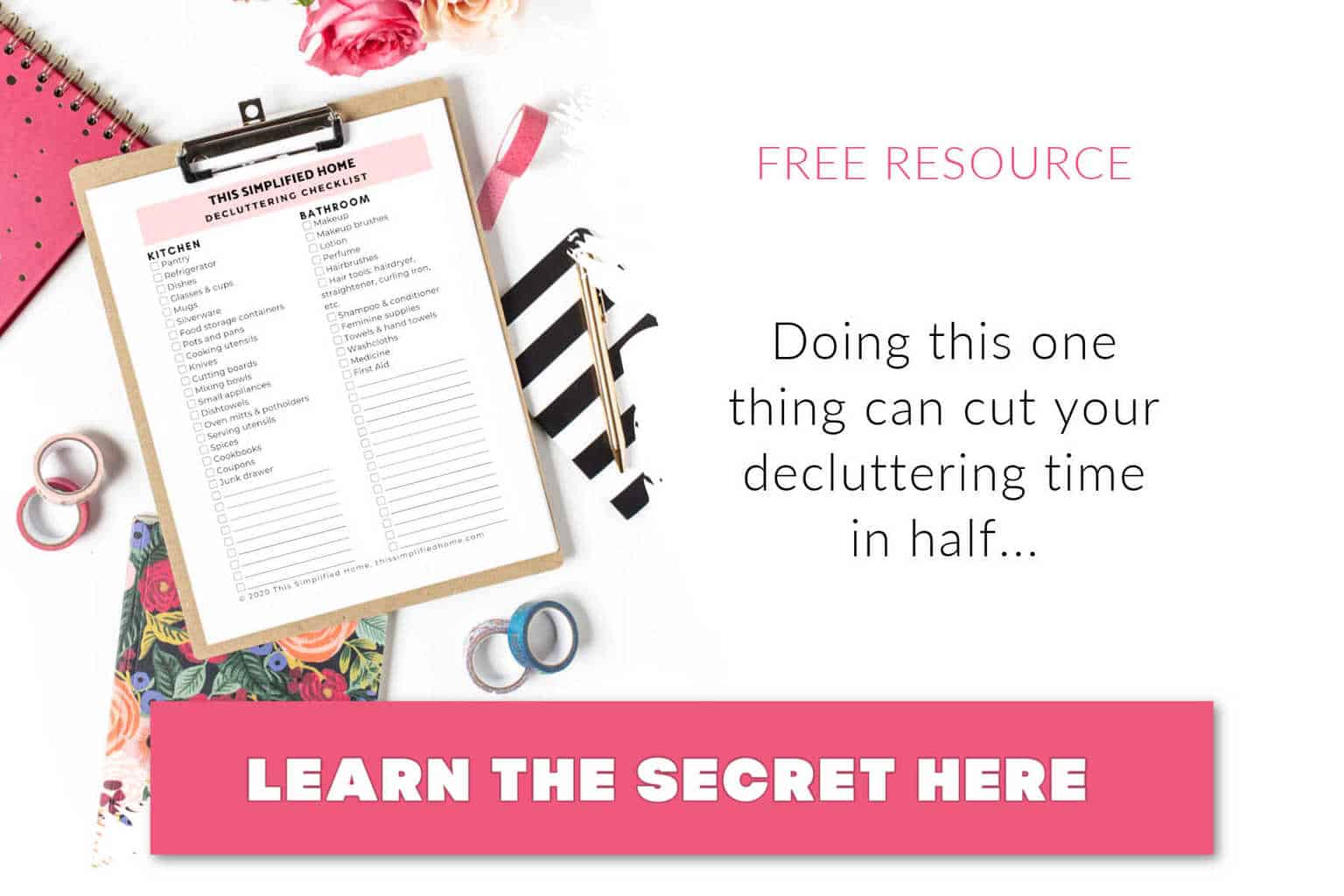 Pin for later…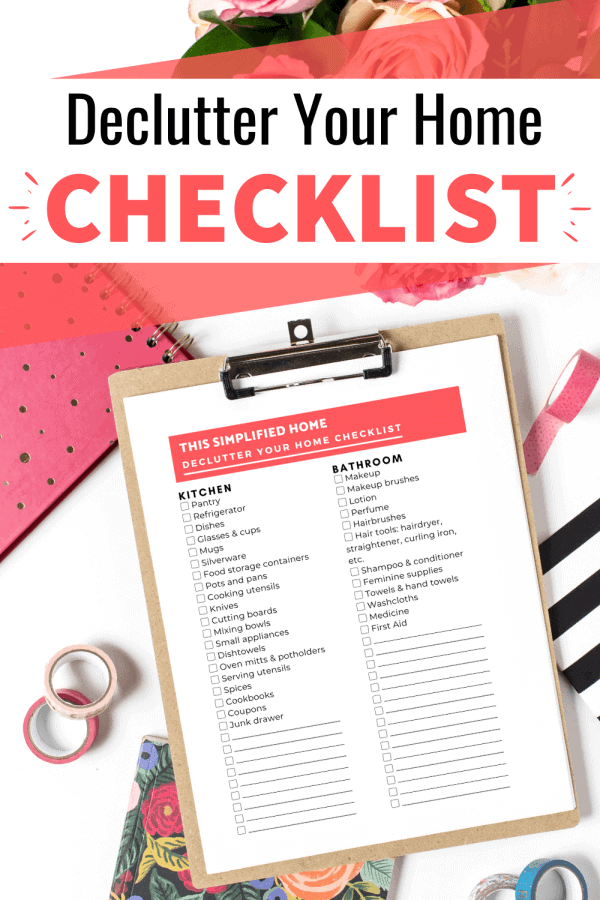 If you liked this post, you'll love…