Do you ever feel like your kids run into the age old problem of having tons of clothes but nothing to wear? You dig through a massive pile of clean clothes, only to settle on an orange plaid shirt with green camo pants.
Psst! I have a secret to share with you. Wouldn't you like to know a super simple secret for organizing kids' clothes and making your mornings just a tiny bit smoother? In this post, I'll tell you how to do just that.
The early morning battles
My 3 year old HATES getting dressed. He'd be happy if he could go to the store, the post office and to preschool in his underwear. While he is fully capable of dressing himself without any help, the common phrase heard in my house is "I cannnn't!"
To add to the chaos, many of his clothes are filled with stripes, patterns, or cartoon characters that it can often be hard to find a matching outfit.
After running around like a chicken with my head cut off morning after morning, I had had enough and wanted to find some serenity in the chaos. I spend my mornings hearing whining about being hungry or not wanting to go potty. I didn't need additional grief from the clothes.
So I developed this simple system for organizing my son's clothes. Not only does it cut down on the hassle and stress in the morning, it even allows him to get dressed on his own (when he's in the mood).
The best way to organize kids clothing
Sort clothes into outfits.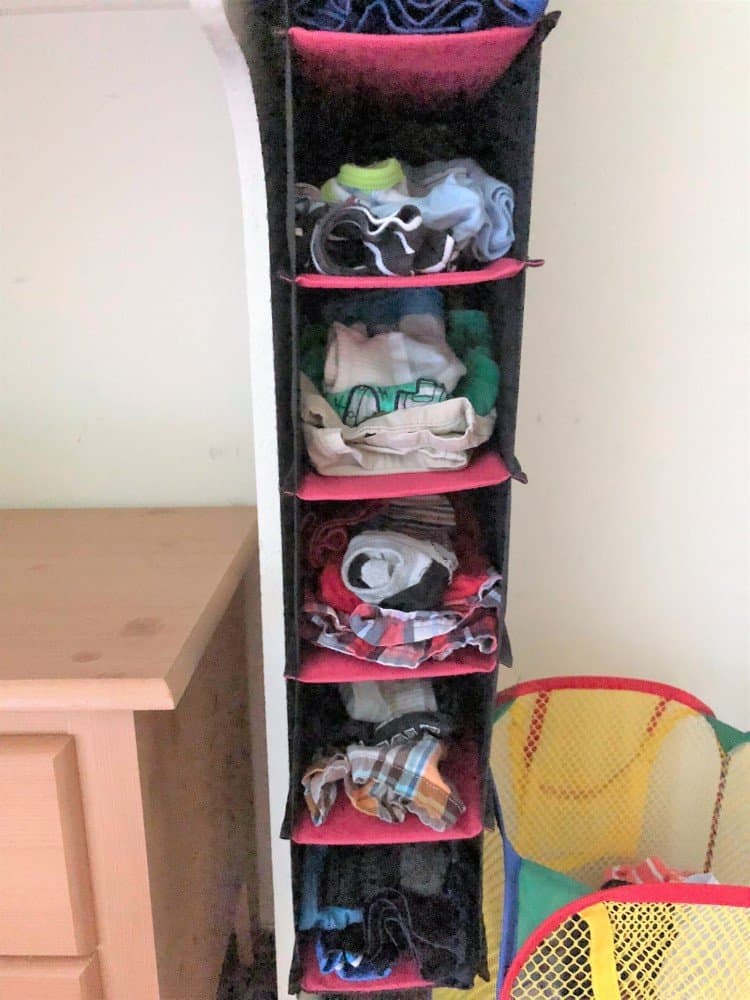 I used to sort clothes so that the shirts were in one pile, the pants in another, and so on. What I ended up with was a drawer that was always getting cluttered. In an attempt to have my 3 year old put his clean and folded clothes away, he'd end up dumping them all into one big pile, often rendering my folding useless. I needed a new solution.
This new solution came by way of a problem: mainly patterned shorts. We own one pair of khaki shorts in his size, with the rest being striped and plaid and camo. His shirts are full of patterns, with cartoon characters and cool surfer dude sayings.
I realized quickly that it would be easier to short out outfits ahead of time, as soon as I was finished folding the clean clothes.
I'd complete the outfit by adding a pair of socks and underwear to each set.
Use a shoe caddy to organize clothes
We found this shoe caddy at a yard sale. It's made to vertically store up to 10 pairs of shoes. Instead, we shove a complete outfit into each slot and even have an extra slot at the top to hold his comb and lotion.
Every morning, my son goes into his room and takes all the clothes from one caddy and dumps them onto the floor. On magical mornings, he also gets himself dressed all by himself.
Alternatives
The point of the shoe caddy is that it's a place with individual compartments to organize each outfit. Here are a few alternatives you could use if a shoe caddy isn't available or your child's clothes don't fit in each compartment:
Lay each outfit out horizontally in a drawer. Each outfit should consist of a stack of pants/shorts, shirt, underwear and socks.

Hanging organizer: You can buy a hanging organizer from Walmart or Amazon that is designed specifically for clothes.

Cube storage: Check out these cube storage shelves that not only would help with organization, but it also puts everything at a kid-friendly level.
Imagine stress-free mornings…
Wouldn't you rather have time to sip your coffee than spend that same time rooting through mountains of clothes for something for your child to wear? Make it easy on yourself, mama. By doing this work ahead of time to sort out the outfits, you give yourself less work to do later on. (Think of it as helping out your future self.)
Things will eventually get done. Your children will get clothed. You will eventually get out the door. But why not do a simple thing ahead of time to make your life so much more relaxed and enjoyable?