Your closets are packed to the brim. The kitchen cabinets have stuff spilling out — plastic containers, expired boxes of cereal, countless small appliances and more. Every horizontal surface is covered with paper, coloring books and toys. So what do you do when you have so much decluttering to do, just the mere thought overwhelms you into a pint of ice cream? In a word: start.
In this post, I'll walk you through the strategies for getting started on your decluttering journey now. I'll tell you how to push past overwhelm to accomplish your goals (no matter how big) and achieve your dreams (even if they are only daydreams at this point).
Story time
Let me tell you a little story. I am a messy person. It comes naturally to me, just like my natural-born musical ability and my inclination to dance whenever, wherever.
When I was in high school, my bedroom had one lone path across the cluttered floor to the bed, where I often slept with a pile of clean clothes. In college, I had a pile of stuff so wide next to my bed, I'd have to jump across to get in and out of bed. In early marriage, the pile of stuff had migrated to the foot of the bed, our kitchen counters were always full of dirty dishes, and the kitchen table never had room to sit at and eat.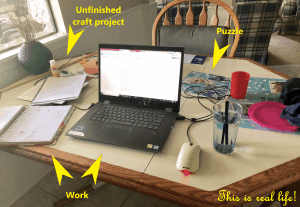 Flash forward to today, three years into my decluttering journey. My house is by no means perfect. I sit at the kitchen table that has an unfinished art project, a finished Frozen puzzle and some random items dumped out of a bag after our day trip a few days ago. But every night, there's room for us to sit down and eat as a family. There's room for me to set up my computer and write to you. There's room for my son to work on his puzzles and for us to finger paint or play with playdough.
There's room to sit at the couch, our bedroom floor is relatively clean, and the playroom is clean except for a few toys left out on the play table. If I need to pay a bill, I know exactly where checks, envelopes and stamps are.
From one messy mama to another
I have a theory that messy moms make the best moms. Those are the moms who don't stress if the kids decide to build a city out of cardboard boxes. They happily encourage their kids jump in puddles, and they surely wouldn't let a little housework keep them from a beautiful day at the park.
However, many of us messy moms take this carefree attitude to the extreme. We avoid cleaning to the point that everything is chaos. It's no fun spending all your time looking for things or buying a duplicate because you can't find the one you bought a month ago.
How to Start Decluttering when You're Overwhelmed
Here are some simple ideas for getting the decluttering ball rolling when you have so much mess you don't know where to start.
1. Give yourself grace.
First and foremost, be easy on yourself. Being messy doesn't mean you're lazy, and it definitely doesn't mean you don't care about your kids. It's purely a collection of habits, both good and bad. Which means…
2. You aren't doomed to live like this forever.
Some people are naturally neat people and like order. For the rest of us, there's habits. Just like you can have a habit of leaving dirty dishes on the coffee table, you can also build the habit of taking care of dirty dishes as soon as you're done using them.
3. Start small.
Pick quick wins first. Don't start with the monumental task of going through boxes of mementos when you have a drawer full of expired cosmetics you could throw out in a heartbeat. Grabbing those quick and easy wins gives you motivation to tackle slightly bigger and bigger projects.
4. Make a list.
I recently wrote a post about how to create a decluttering to-do list that actually works. It seems like a no brainer to write a to-do list, but so often we don't actually accomplish the items that are on our to-lists. This post will walk you through how to create an effective to-do list.
5. Just get started.
I, for one, am guilty of spending hours planning and thinking through everything I will need before actually getting started on a project. And you know what? More often than not, I never get started. Pick one small thing that you can work on right now, and just go do it!
6. Focus on progress, not perfection.
One of my favorite sayings is "Focus on progress, not perfection." So often, we expect perfection from ourselves and are disappointed with anything less. Whether you're trying to declutter, lose weight or start a business, focusing on progress allows for continuously forward motion. It stops the negative thoughts from creeping in and instead focuses on gratitude for what we've already accomplished. Whether you've cleaned out an entire room or a small drawer, be proud of your progress.
You can do this.
Decluttering is not rocket science. You are smart enough and talented enough to do this. You don't need specialized tools to complete the job, just your own determination to get started. Like the Chinese philosopher Laozi said,
"A journey of a thousand miles begins with a single step."
Take that step.