When you're decluttering, it can be so easy to end up with piles in every corner. You have a pile to keep, a pile to donate, a pile of items to fix, a pile of things to return to your sister or friend…you get the idea. You've sorted items into different categories, and yet, you still don't feel like the chaos is lessening.
In fact, you feel like your space is messier than when you started. This can be so discouraging and damaging to your decluttering progress.
So, what do you do when you have a heap of donations piling up but won't be able to take them to the donation center right away?
The Easy Way to Organize Donations
Keep a Donation Box
First and foremost, find a box. A big ol' box that has a lid or flaps that close. You'll want a box big enough to hold a bunch of items.
Find a place to store your donation box.
A good place for your donation box is an area that is not so unused you forget about it (ahem, guest bedroom, perhaps?) but not so commonly used to tempt you to take stuff out.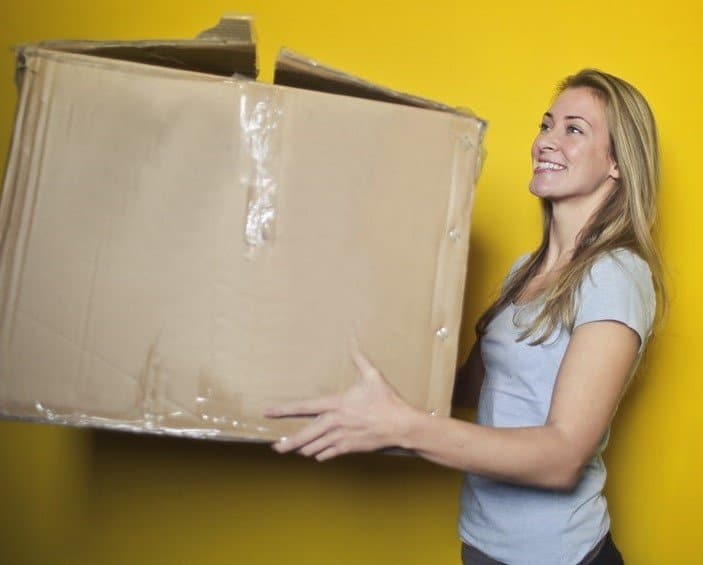 I'll be honest, I break one of my rules above when it comes to my donation box. We store it in our living room — the room we spend the most time in and the first room people walk into when they enter our home.

It's an eyesore, I'll admit. But I don't care. Because the benefits of decluttering far outweigh the downsides of having a cardboard box permanently attached to my living room.

👉 Overwhelmed by a messy house and don't know where to start? Grab this free decluttering checklist and learn the one thing that's keeping you from decluttering your home.

Think of your donation box as a black hole.
When you're working on decluttering, add items to the box. Imagine the donation box is this infinite space where things go and are never seen again. They cease to exist as far as your brain is concerned.
Because really, what good is a donation box if you go rifling through it and "rescue" items in a moment of weakness?
Empty it out once in a while.
Earmarking items for donation is only useful if you actually donate them. Seriously. Get them out of your house and onto their next stations in life.
Am I perfect at this? No. Do I have a donation schedule? No.
It'd be great to tell that I take the box to the thrift store every other Tuesday to donate my unused items. But that's just not the truth. Sometimes our "donation box" grows into "several donation boxes" or even "mound of donations growing out of the original donation box."
And that's okay. Life happens and sometimes you don't even realize how many donations you have until your donation "box" looks like this: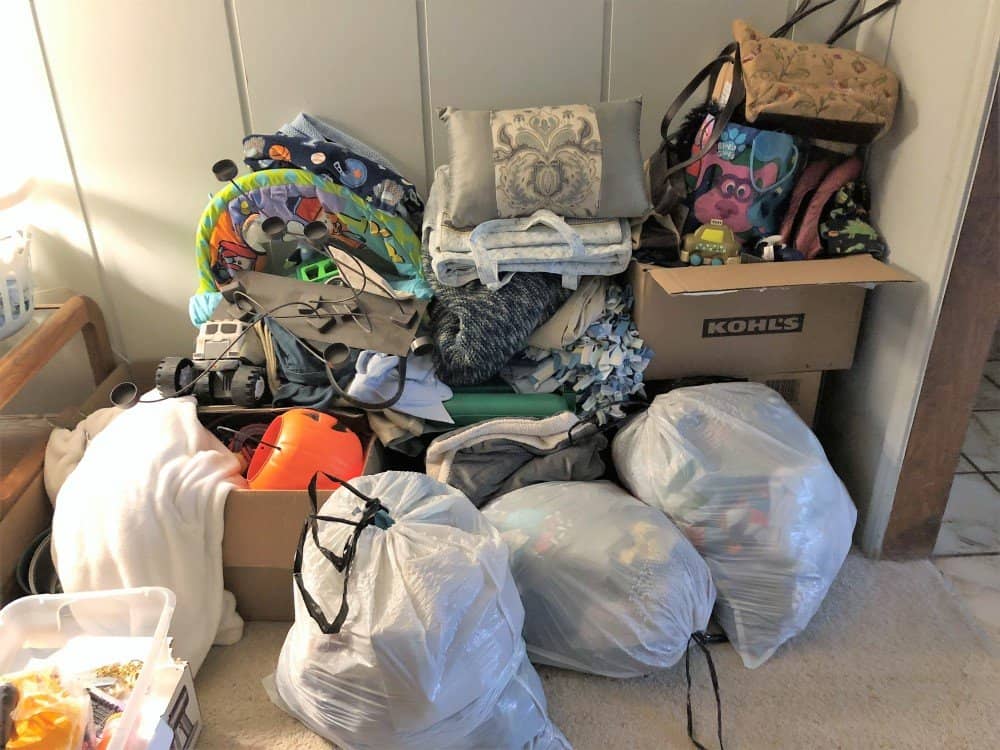 When you feel the need to explain, "Oh that? I'm in the middle of decluttering" every time someone comes over, it's time to schedule it on your calendar and make it happen.
Why Not Use a Trash Bag for my Donations?
I've heard the advice to use black garbage bags so that you can't see the items your donating and later on pull them back out. It's a great idea to keep donations out of sight.
I'm just not so sure of the advice to use a black trash bag. I'm going to be honest: sometimes life gets in the way of my decluttering. I'll intend to finish a project, but it sits, untouched, for weeks or even months.
The last thing I would want is to throw out a bag filled with perfectly usable items or ::GASP!:: check the bag to see what's inside. Then I'll remember how much I love to knit even though I haven't done it since before having kids and "rescue" the knitting needles.
Using a box, especially one marked "DONATIONS" on the side, clears up any confusion.
Why a Donation Box is so Powerful
Here's what I really like about keeping a donation box on hand: You don't have to wait until a free day to declutter. You can declutter in the spur of the moment.

Cooking dinner and realize you have seven spatulas? Pick out your favorites and quickly put the rest in your donation box. Simple as that.

With a donation box, you have created a simple system for collecting donations. This will add ease to your decluttering journey and make donating one tiny bit simpler.

👉 Overwhelmed by a messy house and don't know where to start? Grab this free decluttering checklist and learn the one thing that's keeping you from decluttering your home.

If you liked this post, you might also like…