Inside: Learn the seven steps to crush overwhelm when you have no clue where to start decluttering.
If we played a game of messy house poker, it'd go something like this: "I'll see your junk drawer and raise you a junk room."
Before we decluttered, we had so much clutter, it overflowed out of every drawer, cabinet, and closet, and eventually slithered down the hall to take over our unused 4th bedroom.
We affectionately called this fourth bedroom "the blue room", in ode to it's 1970s, shaggy blue carpet.
Despite making fun of the carpet, we couldn't see much of it. Clutter covered the shaggy blue carpet from one wall to the other.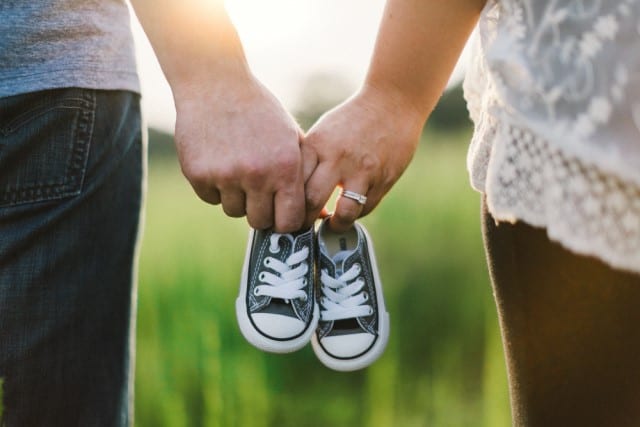 When we found out we were expecting our first child, we dreaded cleaning out that room.
The upside was that it was the closest bedroom to the heater, making it super warm and snuggly during the cold Wyoming winters. The downside was all the clutter.
So. Much. Clutter.
It was something we avoided until I was eight months pregnant. And even then, do you know how I decluttered the junk room? I delegated the task to my husband.
He booted me out of the room and forbid me to enter or look into the trash bags, lest I try to rescue an "I was going to fix that…" item.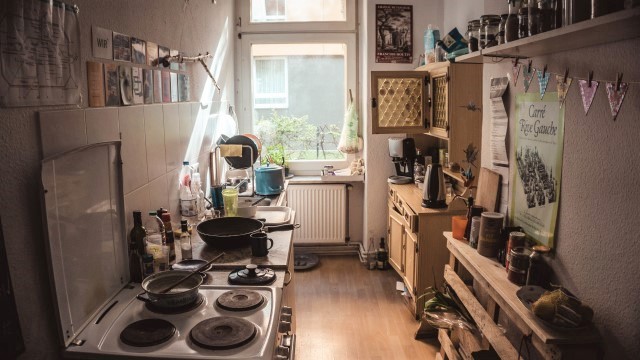 Let's be real. Clutter is overwhelming. If you had a magic decluttering wand, you could wave it over your mess and instantly be left with only the things you love and need.
Unfortunately, that thing has yet to be invented so you're left with your own two hands and a bit of gumption.
You want a clean home, but you have no idea where to start decluttering. Let's walk through 7 simple steps to get started.
7 easy steps when you have no clue where to start decluttering
#1: Determine your desired result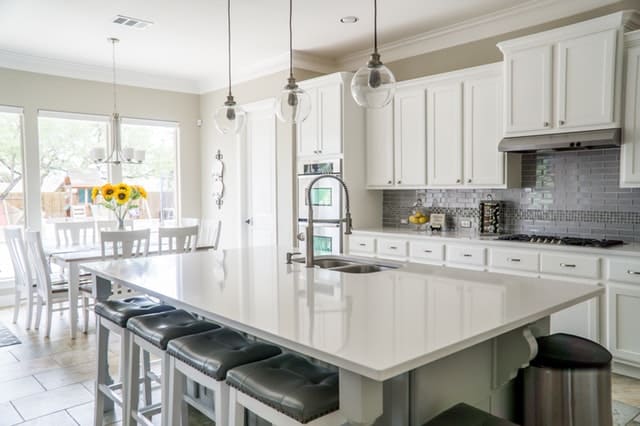 Get clear why you want to declutter your life.
Decluttering stinks. I can think of a million things I'd rather do than go through old junk and make decisions until my head is ready to explode.
I'll assume that you're not decluttering because you enjoy the process. So, what do you want out of this process?
More than a clutter-free home or a clean house, what do you want to do once your clutter is gone?
Would you cook more with your kids? Or spend more time outside? Would you start a business?
Maybe your desired result is something simple…like leaving the house without rushing around looking for shoes.
The list of possibilities is endless and deeply personal.
#2: Let go of the guilt
I know. You feel guilty for buying that thing you never used, guilty for the money wasted and guilty for throwing out something that could be fixed.
Do you know where all this guilt will get you? Nowhere.
As you declutter, you'll build up the decision-making muscle that will help inform your decisions in the future.
Treating your house as a landfill is not going to make your life better. Give yourself grace and make better shopping decisions in the future.
Struggle with clutter? Join our easy, peezy 5 Day Decluttering Challenge.
#3: Stop looking for a free weekend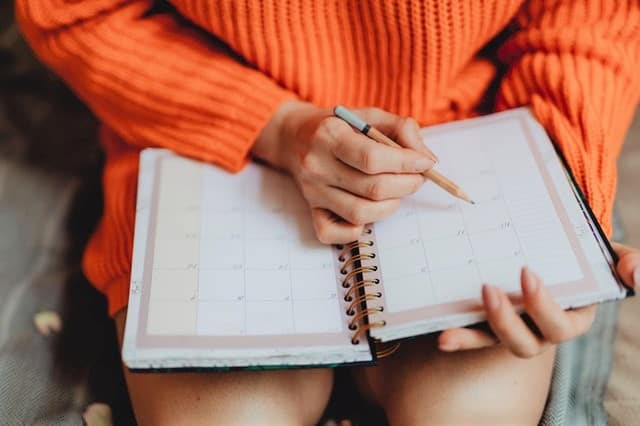 You don't need a free weekend to start decluttering your home. All you need is 15 minutes every day to dive in.
I don't think I've had a free weekend in decades. If there isn't something I have to do, there's always something I'd rather do. 😉
If you consistently spent 15 minutes every day, that amounts to over 90 hours every year! Imagine how different your house would look after investing 90 hours into it.
You don't need a free day/weekend/month. All you need is a short amount of time on a nearly daily basis.
Can't do 15 minutes? Then shoot for 10 or even 5. Miss a day? No problem, pick up where you left off.
#4: Determine your quick wins
Look for projects that are tiny in the amount of time they require but gigantic in their impact.
This could be the empty cardboard boxes sitting by the front door. Or donating the baby items you're no longer using.
Pick a quick win and schedule a time to do it. This quick win will give you a sense of accomplishment and the energy to propel you to a bigger project.
Learn more: The 5 Clutter Busters You Need to Do Right Now
#5: Make a decluttering checklist
So often when people set out to declutter, they dive right into the first thing they see.
The problem with this is that you could spend a massive amount of time on things that don't bother you that much.
You don't see progress and you start to wonder if this decluttering thing is even worth it. You procrastinate one day. And then another. And another.
Before you know it, months have gone by, and you've barely made a dent in your decluttering.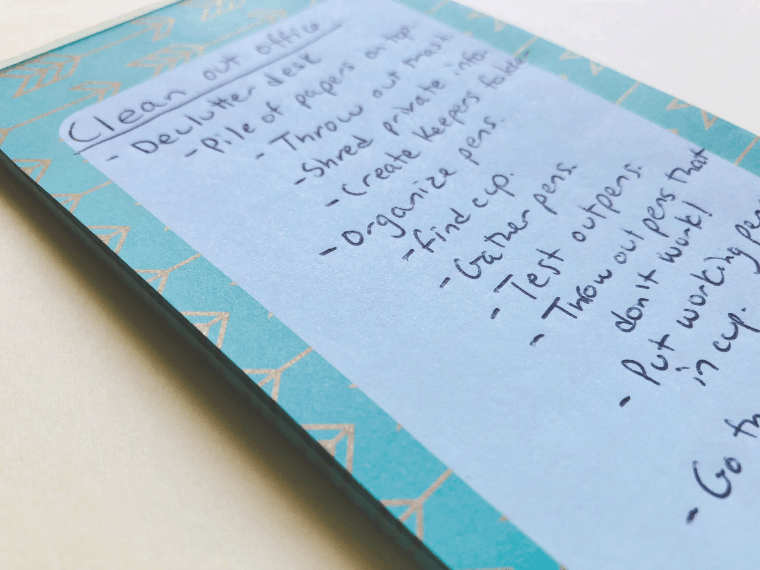 How to make a decluttering checklist:
1. Pick a project area.
This could be a room, an area or a drawer. Pick something that is either super easy to accomplish or something that bothers you the most. Bonus points if it's super easy AND a major irritant.
2. Brain dump.
Take a sheet of paper and write down everything you could do to accomplish this project.
3. Pick one task and break it down.
Let's say your big project is to declutter the kitchen and your first task is to sort through the kitchen utensils.
Take that task and break it down further. In our example, you'll first gather all of the utensils from wherever they're hiding.
Then, you'll sort them into categories.
Then, you'll go through each category and get rid of duplicate items or items you don't use.
The goal is to come up with a list of tasks that take no more than 15 minutes to complete. If the estimated time is longer, break the task into smaller tasks.
Learn more: Learn the Step-by-Step Process to Creating a Decluttering Checklist
#6: Gather decluttering supplies
Let's keep it simple. We're not developing a plan to send a person into space, so this preparation shouldn't take days.
Supplies you need for decluttering:
A box (or several) for donations.
Black trash bags: Theoretically, you could use any old kitchen trash bags, but the white ones are see-through and make it easy for someone to try to "rescue" an item.
That's it.
This isn't rocket science. If you find yourself spending months looking for the perfect organizers, stop it! This isn't research. It's procrastination.
#7: Set up a time
What time of day works for you to declutter 15 minutes a day, every day?
For me, this is the first 15 minutes after my kids have gone to bed. If my buns hit the couch, the day is over.
Don't get down on yourself if you miss a day. The important thing is to focus on making small, consistent steps towards your goal.
Fifteen minutes might not sound like a lot, but performed daily, that's over 90 hours a year!
Get organized: I use the Living Well Planner to plan out my week. There is a huge difference in my productivity and (more importantly) happiness the weeks I plan and follow my schedule compared to the weeks I try to do it all from memory.
Now that you know where to start decluttering…Let's go!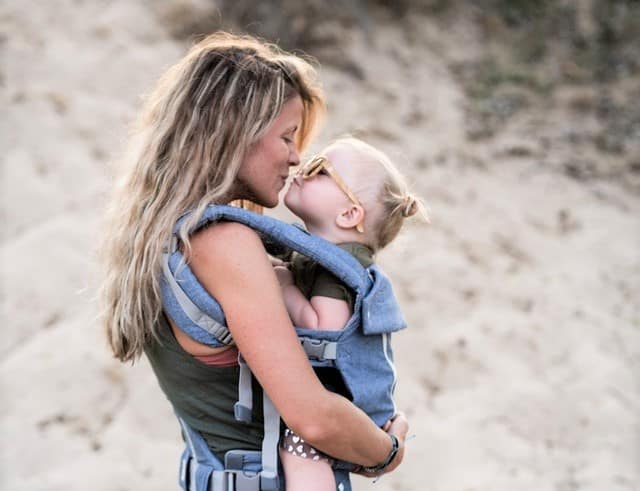 Real talk. Decluttering stinks. I don't know anyone who likes to declutter for fun.
Push yourself to take 15 minutes out of every day to accomplish one small task. Small, consistent steps can make a huge impact.
You don't have a magic decluttering wand, but now you have a decluttering game plan to get close to your goal.
You can do this! Remember that desired result you dreamt up at the beginning of this post? Take that dream and run towards it!
Pin for later…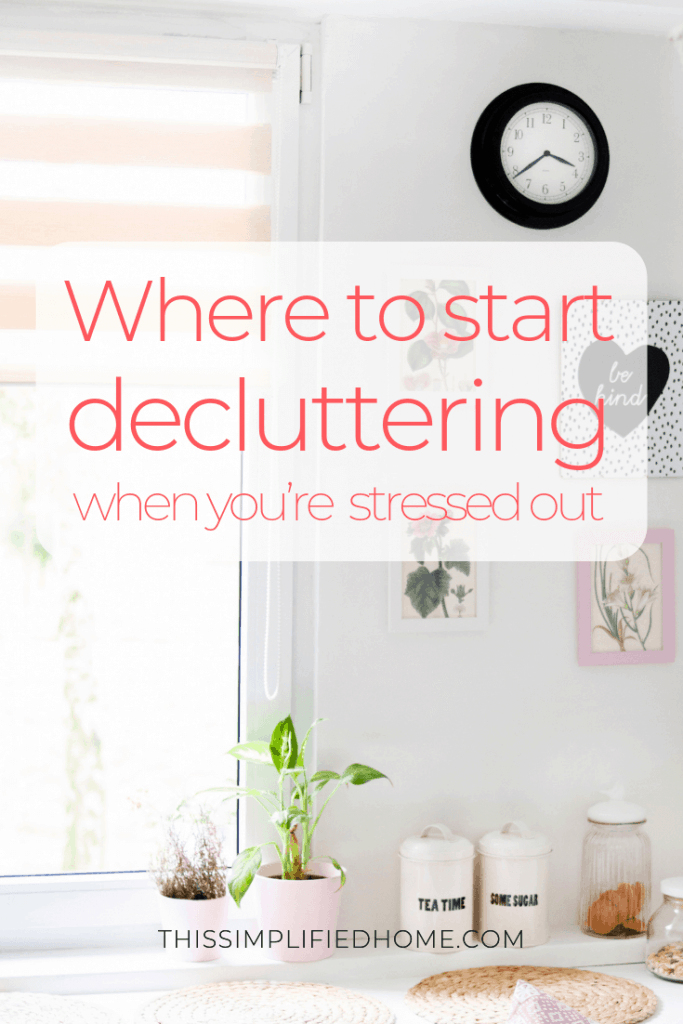 If you liked this post, you'll love…