Do you struggle to keep your car clean or find it hard to find the time to clean it? Is your car a magnet for trash like receipts, disposable cups, food wrappers and the like? Mine too.
I would accumulate trash with great intentions to bring it inside and throw it away as soon as I got home. But sure enough, like some sort of evil magic, my brain would completely forget my good intentions as soon as I turned off the car. Thus, my car would accumulate all sorts of trash and "Clean my car" would weigh on my to-do list for months until I finally had had enough and made the time to clean the car.
That's why I developed this super simple method for keeping my car clean with no extra time spent.
Car Cleaning Guide for Busy Moms
Find a trash receptacle.
For years, I've kept a used shopping bag on the floor in front of the of the passenger's seat. I recently got fancy and found a small trash can in my garage that wasn't being used. This'll help keep the trash in the trash bag, but it's not absolutely necessary.
Use the trash bag/bin on the go.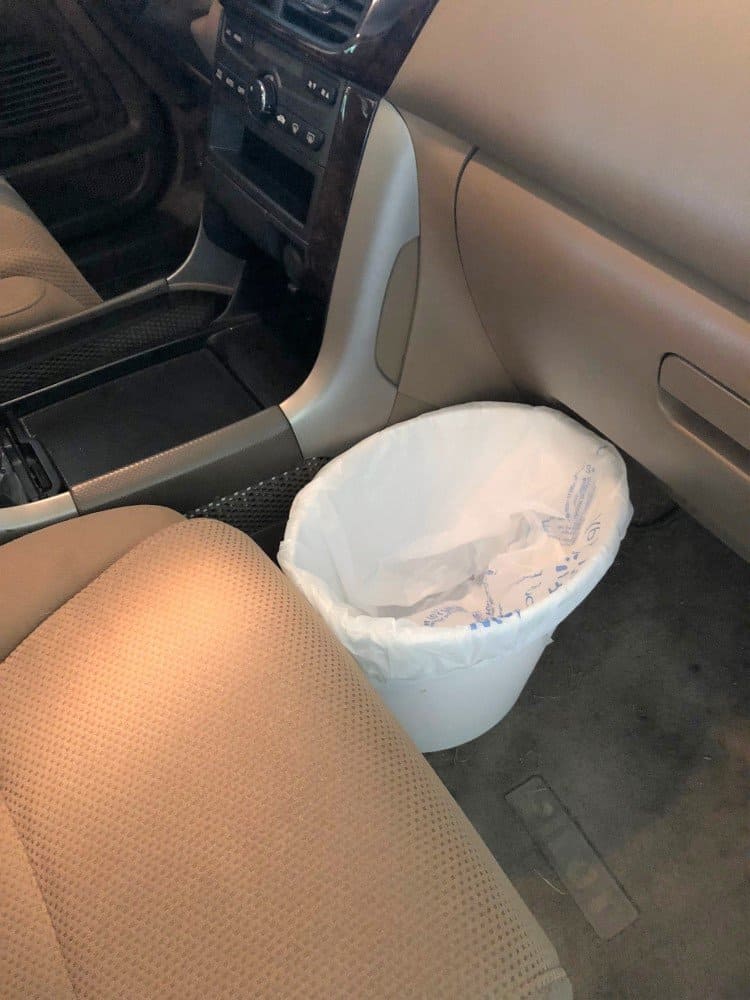 When you accumulate trash, instead of stuffing it into the cup holders or the center console, pop it straight in the trash bag. Easy peasy.
Empty as needed.
For the most part, my car trash only contains non-perishable items like receipts and papers. I only empty the trash every few months when it's starting to spill over. If you plan on throwing out food or other perishable items, empty the trash on a weekly basis.
Clean when you have a few free minutes.
Have a few minutes while waiting in the drive through or in the school pick up line? Take these few extra minutes to scrounge the car and find things to throw away.
And that's it!
This is a simple tip that can make a huge difference. Your job right now is to go find a shopping bag or cardboard box or empty disposable cup and go put it in your car. Then make sure you use it! A cleaning system is only effective if you do the work.
Your turn! Tell me your biggest struggle with keeping your car clean or share a great tip that's helped you!
Some posts you might find interesting…