Inside: Drowning in clutter? Here are the three books about decluttering I credit with helping me get past my hoarder habits and create a home I love.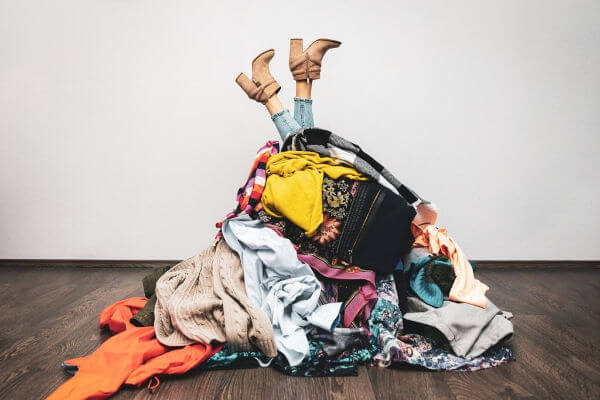 When I became a stay at home mom, I felt dumb.
The sleep deprivation rendered my mind useless, incapable of remembering the basics, like my son's name, my age or to switch the wash over to the dryer before it started to smell of mold.
I transitioned from a career I loved but didn't pay enough to justify child care. Sure, I was eager to spend time with my new baby, but waking up every two hours throughout the night was taking its toll.
I remember the tone of my mother-in-law when she asked how our baby was sleeping. When we told her he slept from midnight to 6 a.m., she was impressed.
When we clarified that he had only slept six hours total…and those six hours still included two night wakings, her joy quickly faded.
Once we passed the newborn phase and were still battling sleepless nights, I knew something had to change. It's difficult to go from a career that challenges your brain every day to a calling that takes every brain cell just to remember to eat lunch.
I set a goal for myself to read one non-fiction book per week, so that I could make use of the countless hours during the day where my one job was to rock a baby. (There's only so many Youtube videos a mama can watch!)
Over the last four years, I've read or listened to over 130 books to quench my insatiable thirst for knowledge.
Included in that array of books are a bunch of books about decluttering and keeping a tidy home.
In this post, I'll share the three books about decluttering to read. I'll even tell you reasons I don't recommend some of the most popular books on decluttering.
The 3 Best Books About Decluttering When You're Stressed Out
Sidetracked Home Executives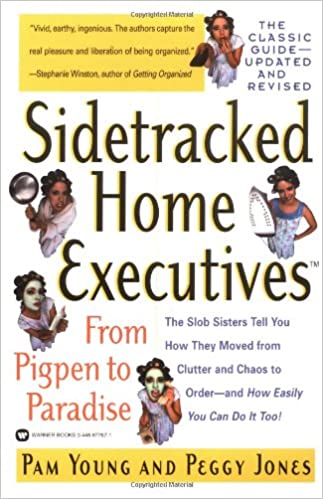 By Pam Young and Peggy Jones

Hands down, this is one of the best books about decluttering…and yet no one is talking about it.

This old gem, written by two sisters, came out of the 1980s with humor and relatable stories, like the multitude of terrible Halloween costumes because they would forget until the last minute.

If you ever read articles or books on organization that made you feel ashamed for the state of your house, fear no more.

Sidetracked Home Executives (SHE for short) was the first time I found my people.

Other authors, while well meaning, made me feel isolated in my mess. I felt like I was the only one who didn't realize laundry needed to be done until there was a mountain 3 feet high. I felt like I was alone in having dog fur tumbleweeds rolling across the floor.

For the first few months of my baby's life, we rarely did the encouraged amount of tummy time. I was anxious what germs he would pick up if I put him on our dirty floor.

Despite the fact that SHE was written before I was born, I connected with their stories and their struggle.

The system they laid out was easy to follow, even for someone like me who was constantly distracted.

You might find the chores a little overkill by today's standard (who cares if there's dust bunnies under the bed), but the system itself is gold. You can customize it to fit your lifestyle and your family.

Years later, I still use this system to keep myself on track. If you only read one book on how to get your home in order, this is it.

Grab a copy of the book here: Sidetracked Home Executives: From Pig Pen to Paradise

👉 Overwhelmed by a messy house and don't know where to start? Grab this free decluttering checklist and learn the one thing that's keeping you from decluttering your home.

Decluttering at the Speed of Life
By Dana K. White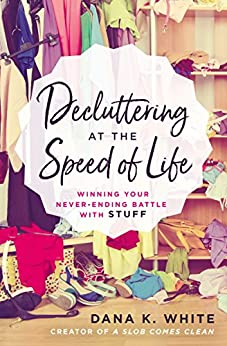 "Decluttering at the Speed of Life" is one of the books about decluttering written by someone who understands what it's like to struggle with clutter your whole life.
Dana talks about her journey through decluttering, which started with a string of houses, each one bigger than the last. When the clutter grew to fit the space, she realized that she had to get rid of it.
My favorite concept from this book is what she calls the "Container Concept." You fill a container — be it a box, cabinet, closet or room — with your favorite things first. Once the container is full, you get rid of the rest.
Easy peasy, lemon squeezy!
Her book is full of simple but powerful concepts like this.
Grab a copy of the book here: Decluttering at the Speed of Life
Outer Order, Inner Calm
By Gretchen Rubin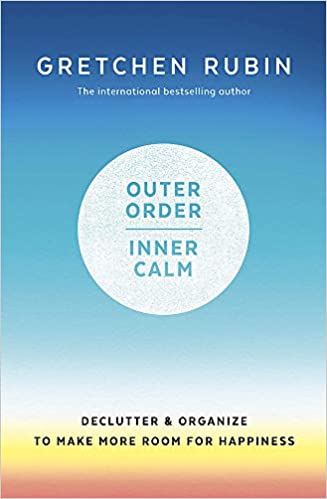 In Outer Order, Inner Calm, Gretchen Rubin (bestselling author of "The Happiness Project"), runs through the reasons you should get rid of clutter and strategies that can help you do that.
What I loved about this book over any other decluttering book, it's that Gretchen acknowledges that what works for one might not work for another.
We're all different and may need completely different strategies to accomplish a similar goal. Gretchen provides several different strategies in one book.
This is amazing, because you usually would have to read several books to find a strategy that works for you. If you have tried several different strategies to no avail, this book is worth a look.
Grab a copy of the book here: Outer Order, Inner Calm
Runners up
7: An Experimental Mutiny Against Excess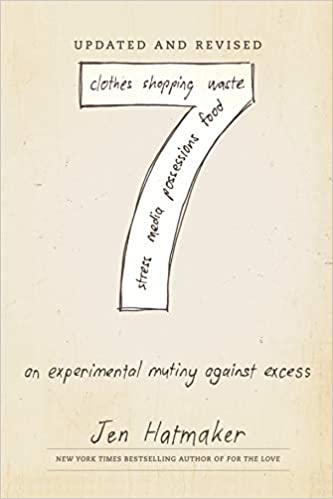 I'm recommending this book because Jen Hatmaker is hilarious. This is not a tactical step by step book about decluttering, but rather a thought essay on what it means to live with less in all areas of our life…and really, do we need as much as we have? And she's hilarious.

In "7", Jen takes seven areas of her life and simplifies each of them for one month. The first month, she eats only seven foods (chicken, avocado, whole wheat bread, apples, spinach, eggs and sweet potatoes). In another month, she wears only seven items of clothing, leaving her without a jacket during an unseasonably cold February in Austin, TX as well as pants that start to smell like mildew. In the last month, she attempts to pray scripted prayers seven times per day (dawn, mid-morning, noon, mid-afternoon, dusk, evening, and midnight), although she finds the midnight prayer difficult to stick to.

What I love about Jen Hatmaker is her sometimes crass humor, all the while striving to be better. Often, Christian writers (or even just regular church goers in the south) come across with a holier-than-thou attitude. They don't drink, they don't smoke, they sure as heck don't swear, and therefore it is hard for most of us to relate to them.

Jen Hatmaker is relatable. She doesn't come off as trying to be perfect; rather she comes across as a flawed human being trying to live in Jesus's image. Honestly, if we were all perfect, we wouldn't need religion to help guide us. It is exactly the reason that we are NOT perfect that having a tried and true set of principles to follow is so necessary.

I listened to "7" while visiting family, and found myself sharing different parts of the book and starting discussions. My mom, in particular, was interested in what the book was about. We enjoyed discussing areas we'd like to simplify in our own lives.

I recommend "7" for anyone who loves anecdotal stories intertwined with biblical wisdom. As I said in the review for "The Year of Less," I personally love when people try to meet a big goal by making drastic changes, even if this type of goal setting never works for me. (I'm much more successful if I set the littlest goal possible and strive to meet it before upping the ante. If the goal is so small I don't even notice the change, I'm on the right path.)

Grab a copy of the book here: 7: An Experimental Mutiny Against Excess

👉 Overwhelmed by a messy house and don't know where to start? Grab this free decluttering checklist and learn the one thing that's keeping you from decluttering your home.

The Year of Less
by Cait Flanders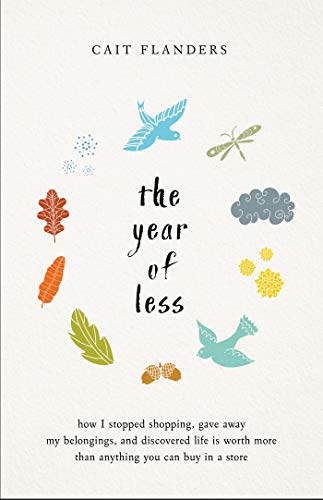 Here's another one that is not a book about decluttering, but rather about living with less.
This book is about one woman's personal journey to spend less, and more importantly, spend intentionally. I'm a huge fan of reading personal journeys, especially when they include some sort of big, seemingly unattainable goal. For me personally, baby steps works much better than going cold turkey, but I admire anyone who can make drastic changes quickly.
Not only is this book a quick read, it's also a fascinating lesson on failure. Sometimes Cait, the author, meets her monthly goals and sometimes she doesn't. Yet, she doesn't internalize these feelings to mean that she is a failure. She simply picks right back up and continues striving towards her monthly goals.
I talk a lot on this blog about striving for progress, not perfection. Mainly because it's a lesson that is hard for me to learn. So often, we get caught in this cycle of giving up right when things don't go exactly as planned. But I'm coming to learn that those who succeed keep on truckin' when they're faced with adversarial circumstances. They don't expect perfection.
Grab a copy of the book here: The Year of Less
The Minimalist Home
By Joshua Becker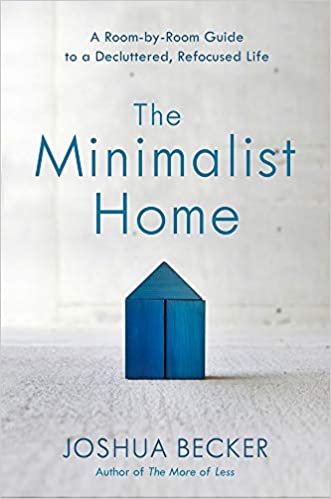 I love this book by the OG of minimalism, Joshua Becker. This is a great book that gives you the step-by-step process to how to declutter your life, one area at a time.
I listened to it on audiobook, which I would not recommend. You won't be able to follow along as easy and, honestly, it's just a dang boring read.
Where it excels though, is giving you the exact steps to take to declutter your entire home.
Grab a copy of the book here: The Minimalist Home
Decluttering Books I Do Not Recommend
Oh, snap! I'm about to throw some shade.
I hate to say anything negative because if a book or method can help you change your life, then go for it! You do you!
But there are two popular books I would like to throw under the bus, because I don't think their methods are very useful for the vast majority of people.
Here are two very popular decluttering books that I don't recommend:
The Life-Changing Magic of Tidying Up
By Marie Kondo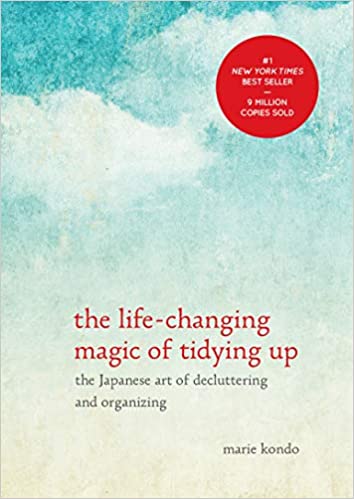 You can read this post on why the KonMari Method doesn't work to learn 4 biggest gripes I have with "The Life-Changing Magic of Tidying Up".
After I read the book, I felt like there was something wrong with me. I couldn't figure out why the method worked so well for so many other people, yet it did diddly squat for me.
If you have a cluttered home and are struggling to follow the KonMari Method, know this:
Having a messy house doesn't mean that you're lazy or that you don't care. A messy house is just that: a house that is messy.
Just like there are billions of different people on this planet, there also isn't one method that works for all of us. Hop on over to the post to read the 4 reasons the KonMari Method doesn't work.
The Gentle Art of Swedish Death Cleaning
By Margareta Magnusson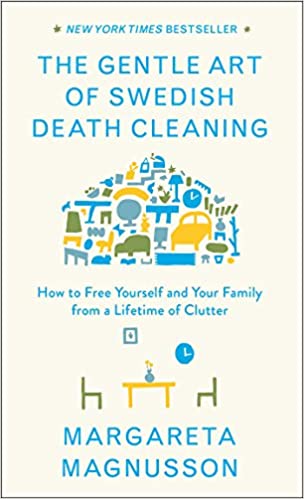 Swedish death cleaning has become a new buzz word in the decluttering world. However, unless you are am empty nester looking to downsize and sort through decades of stuff, this book will not help you.

👉 Overwhelmed by a messy house and don't know where to start? Grab this free decluttering checklist and learn the one thing that's keeping you from decluttering your home.

Pin for Later