On your decluttering journey you may come across a few items that are worth a little money, or a lot of money. A great option is to sell stuff on Facebook.
We've been successful selling a host of things, from furniture to electronics to appliances. We've also had a couple of doozies that took a lot of time and never ended up selling. In this post, I'll share with you some of my best tips for selling items on Facebook quickly and safely.
Where do you post items for sale on Facebook?
There are two ways to post your item for sale on Facebook: Facebook Marketplace and local Buy/Sell Groups. It is free (as of this publication) to list items for sale, but private groups might have rules as to what you can and cannot sell.
Facebook Marketplace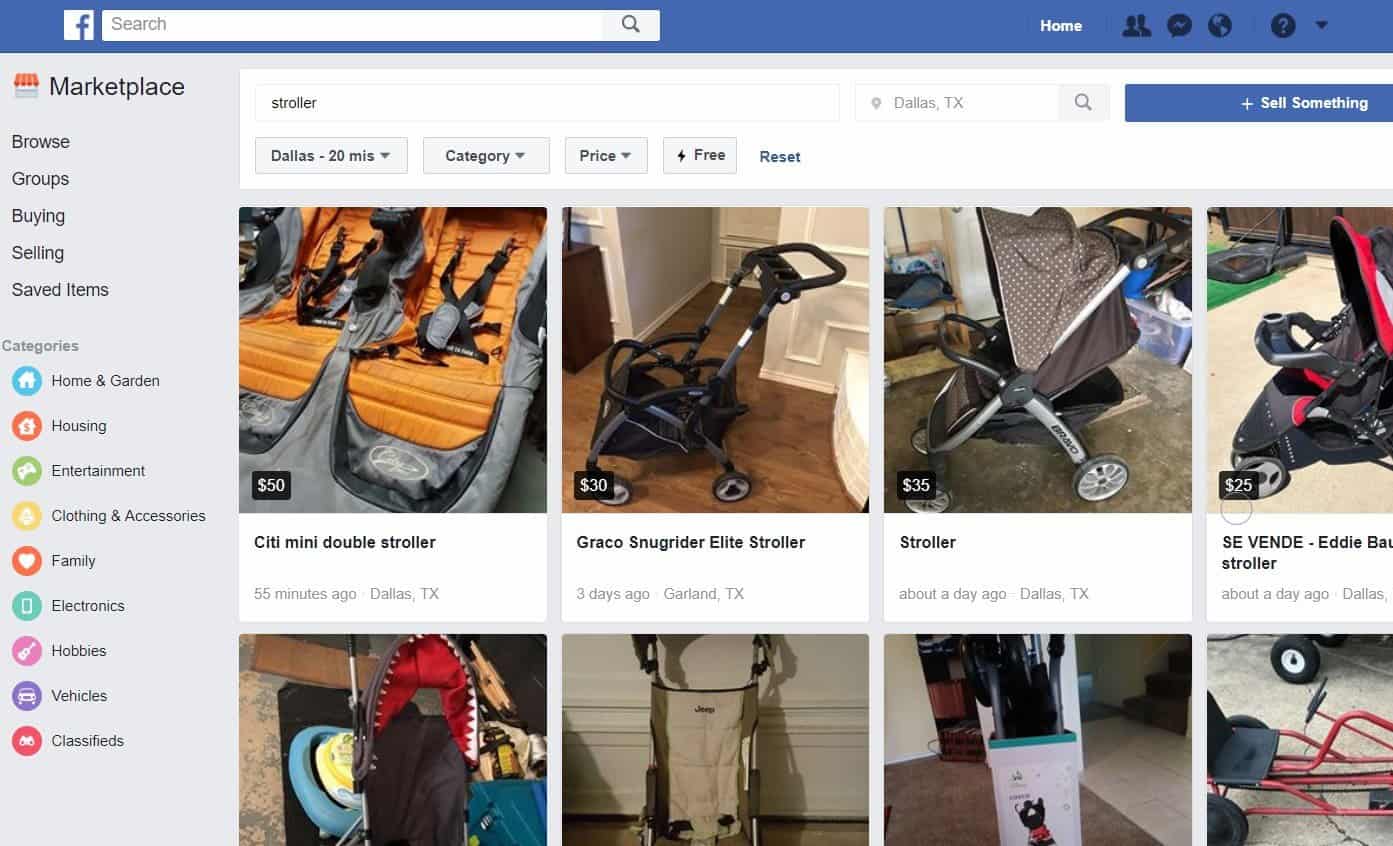 One way is to post on the Facebook Marketplace. Anyone who has a Facebook account is able to search for items in a particular area and send messages to sellers.
Buy/Sell Groups
The second way you can sell items on Facebook is to find local buy/sell groups. These groups are generally private, meaning you have to request permission to join and only members of the group can see items for sale.
You can search for these groups under the names "[your town] buy sell trade" or "[your town] classifieds." If that doesn't turn up anything, ask around in your local community to see what's available.
Tips for selling stuff on Facebook
Take high-quality photos.
Your cell phone will work just fine, but putting in a little bit of effort will go a long way:
Open the shades to let ample natural light in.
Bring smaller items closer to a large window that is not in direct sunlight.
Declutter the area as much as possible (even if that means shoving stuff to be right outside the frame of the picture).
Clean up the item a little bit. If it's dusty, dust it. If it has a mark that will easily come out, wash it.
Take plenty of pictures (4-7 depending on the complexity of an item). If the item has tags or identifying information, take pictures of that too.
Write thorough descriptions.
The more information you provide about your item, the less questions you will have to field. Describe what the item is, the condition, and if there's anything wrong with it. Be honest if a couch you're selling has a small tear in the back and be sure to include pictures. It's better for people to know up front than to waste your time and their meeting up with them only for them to decide they're no longer interested because of the imperfection.
Be prepared to negotiate.
Know what is the bare minimum you'd be willing to sell an item for. If you price your item for exactly what you want to sell it for, be sure to include in the description that "Price is FIRM."
You may have people that will throw out an incredibly low offer and try to low ball you. If their offer is way below what I'm asking (say I list an item for $50 and they offer $10), I usually won't negotiate back and will politely respond "Sorry, that's too low." If offer is reasonable, I'll meet them in the middle.
Bump consistently.
When posting in private Facebook groups, there's this term called "bump" which means "Bring Up My Post." By adding a comment saying "bump" to your post, it will bring it to the top of the page.
Check the group rules to figure out how often you can bump your post. I like to stick to once daily (if I remember to do it that often). Some people will search through old posts to find the thing they're looking for, but in many cases, people don't realize what they need until they see your offer in their feed.
Meet in a public place.
This is so crucial. Unless you know the person who is buying from you, set up a time to meet at a public place. Gas stations and the parking lots of Walmart or grocery stores are good options. Pick a time during the day when there will be a decent amount of people around.
Don't budge when it comes to your security. No amount of money is worth putting yourself at risk. Be safe!
Don't use selling as an excuse to hoard.
If an item hasn't sold after a few weeks or a few months and you've tried lowering the price, chances are, it's not going to sell. Get rid of it and pass it along to your local thrift shop or shelter.
Selling on Facebook can be a great way to bring in a little extra money while freeing up space. It has an added bonus helping you part with those items that you might've spent a chunk of change on with good intentions but never really ended up using. It can be hard to part with an item when it feels like you'd be losing the money you spent, but it can be easier when you know you'll at least recoop some of the money.
Happy selling! Let me know if you have any questions.
You may also like…