Do you ever feel like you're constantly in a state of decluttering the playroom? Oh goodness, me too. As soon as I take toys out the door to donate, more are showing up from grandparents, Christmas, birthdays, and my weakness, garage sales. In this post, I'm going to walk you through simple steps to decluttering toys so they don't get overwhelming or out of control.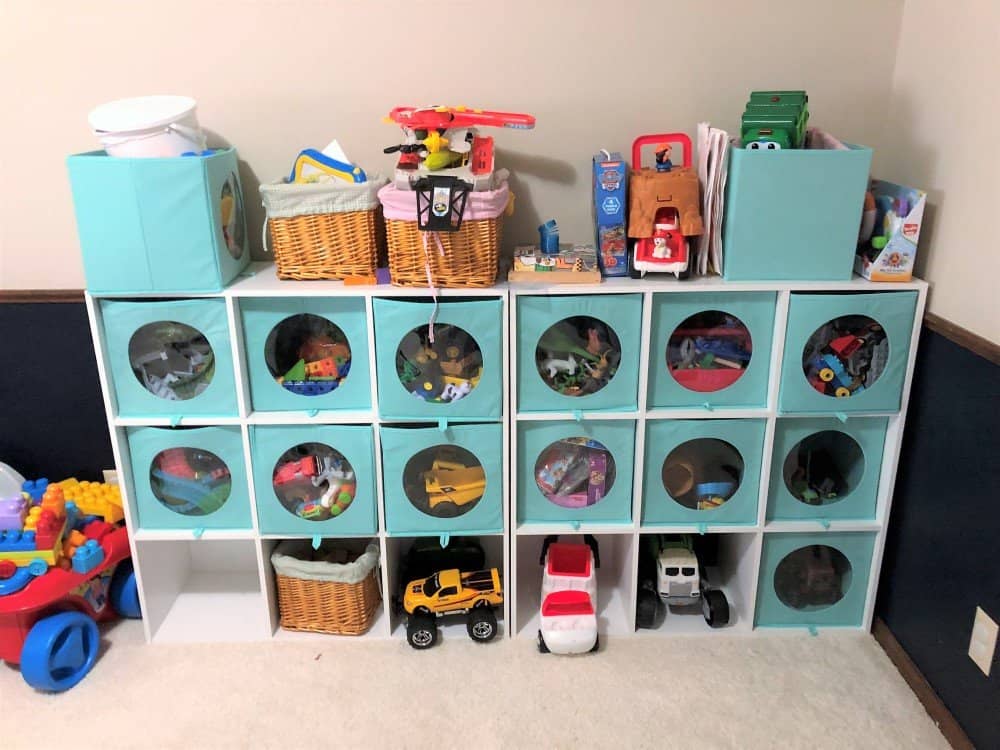 Disclosure: This post may contain affiliate links, which means if you click the link and purchase something, I would receive a commission at no cost to you. This helps support this blog and allows me to make free content. Thank you!
8 easy steps to declutter toys
1. Watch your children play
This first step happens weeks before you actually declutter. What are your children interested in playing with? What toys do they naturally gravitate to? Which toys never see play?
For toys that never get played with, you have two options: get rid of them or make a point to bring them out and play with them. You may have some toys that for whatever reason you want your children to play with more. It may be educational or a toy you loved playing with as a child. Pull it out and play with it with your children and they may start gravitating to that toy on their own.
2. Pick the right time
Pick a time that your children are not around. They may be sleeping or off at Grandma's house. Decluttering when your children aren't present makes the process go so much quicker and allows you to make educated decisions based on which toys your kids play with most.

👉 Overwhelmed by a messy house and don't know where to start? Grab this free decluttering checklist and learn the one thing that's keeping you from decluttering your home.

3. Pull all toys out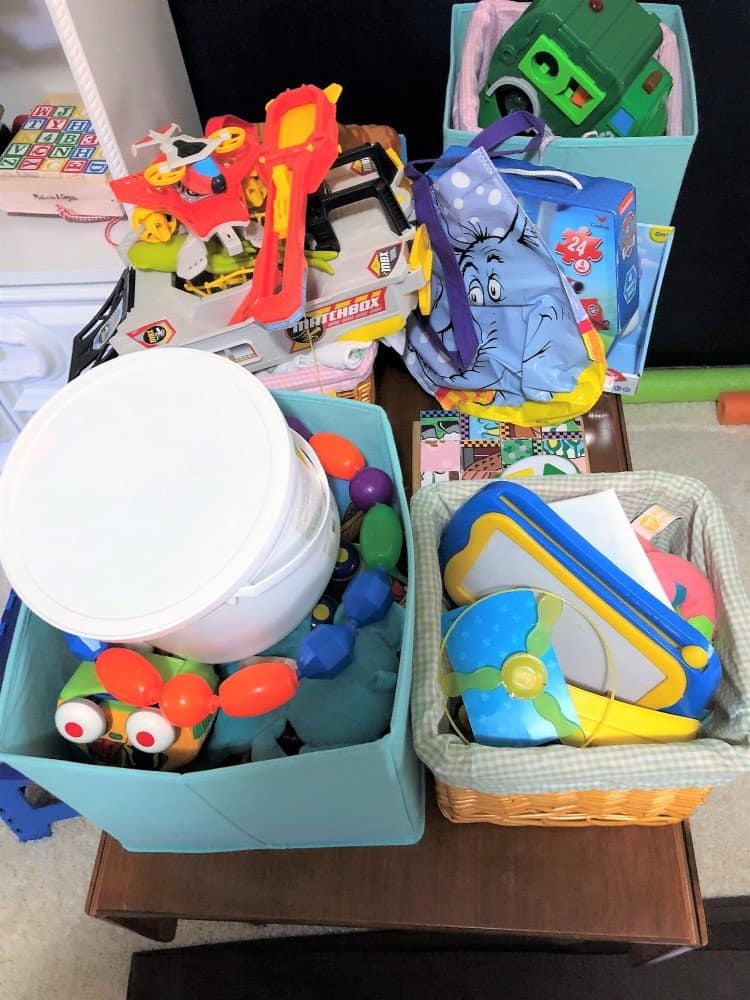 Pull all of the toys out of the toy box, off of the shelves, etc. This gives you a clear space to work with as you pick out toys to keep.
4. Sort toys
Use boxes, baskets or just separate piles on the floor to separate out toy pieces as you go through it. Organize toys by type so it's easy to go through each category.
5. Throw away trash
Throw away any toys that are broken beyond repair, are unsafe, or no longer serve their function. Throw away pieces that belong to toys you no longer have.
6. Pick out the keepers
Remember back to the first step when you took some time to observe which toys got the most playtime? Now it's time to put these toys back on the shelf or in the toy box.
Go through the toys and keep putting away toys until:
You run out of toys your kids enjoy, OR
You run out of space. Think about your shelves or toy box as an indicator to the maximum about of toys you can keep.
7. Store donations in temporary holding space
There is nothing worse than a child crying at 9 p.m. on a Sunday night because they can't live with out a certain toy…that you donated the day before. As a precaution, store toys in a temporary holding space, preferably an area of your home that is rarely used, at least by your kids.
I put all the toys to donate in a black garbage bag and store them in our guest room for a week or so before donating. That gives a chance for my kids to ask about a particular toy, one that I mistakenly thought they didn't play with. Most often they don't and everything ends up being donated.
Not only does this help fend off meltdowns, it also gives me time to get less attached to the toys. When I realize a week later that I can't even remember what toys I got rid of, it makes it easy to pack them into the car and ship them off to the thrift shop.
8. Get extra toys out of your house
Don't miss this step! It does you no good to shuffle clutter from one area of your home to another. Take the time to take the toys out of your house, whether you're donating them or giving them to friends or family.
Enjoy life less cluttered
This magical thing happens when you declutter your kids' toys. They actually seem happier to play because the toys that are available are their favorites. The toys left are the ones ignite creativity and imagination.
Decluttering is about keeping the toys that foster the kind of childhood you dream for your children.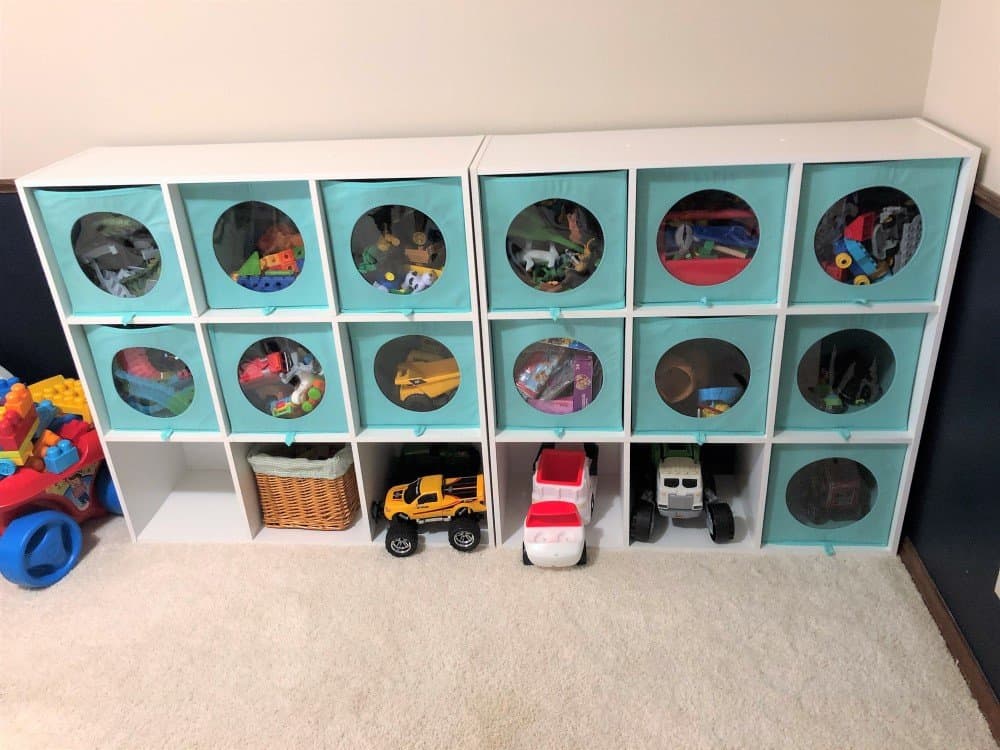 👉 Overwhelmed by a messy house and don't know where to start? Grab this free decluttering checklist and learn the one thing that's keeping you from decluttering your home.

Pin for later…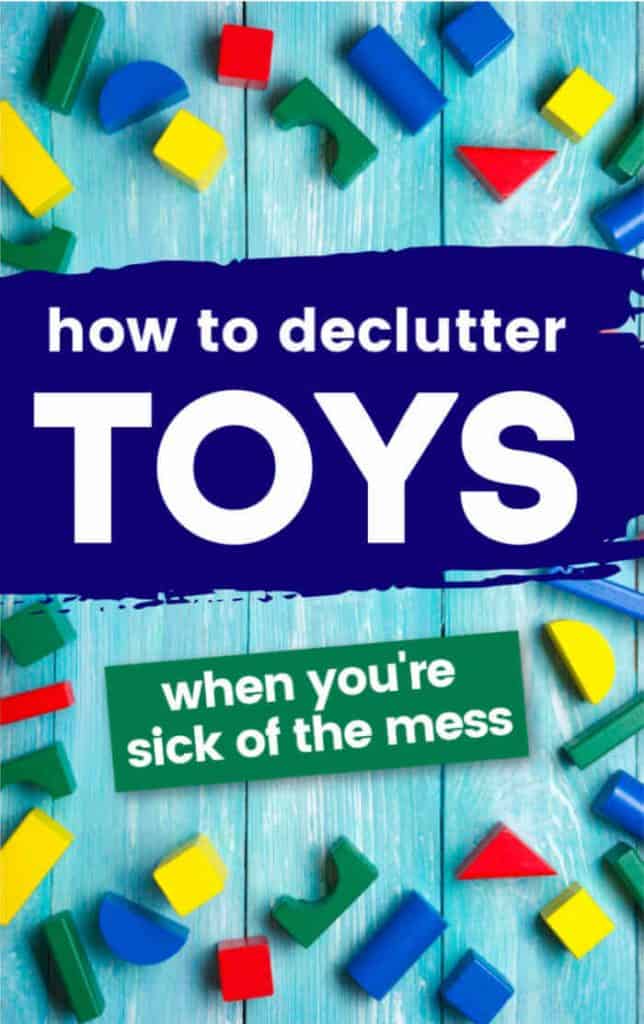 If you liked this post, you'll love…