Inside: Overwhelmed by playroom organization that requires a design team and a full-time housekeeper to maintain? Here are some dream playroom ideas anyone can do.
When we moved into our 1970s home, complete with popcorn ceilings with sparkles (it's groovy), we immediately turned our formal dining room into a playroom. Its location next to the kitchen is ideal, and because it's a 1970s home, it has doors we shut at the end of the night and attempt to forget the mess it contains.
If you're looking for some unique playroom organization ideas, you've come to the right place. I'm right there with you, getting lost in swoon-worthy playroom designs that are completely impractical for everyday life (oh, indoor slide, how much I love you).
Okay okay, there are a few swoon-worthy features in this post you will most likely not implement. But with each playroom inspiration, I extracted the ideas that are easy to implement, regardless of your budget or the size of your space.
Organizing a playroom with a small space or small budget (or both!)
Before we get into playroom organization inspiration, let's discuss one thing. You don't have to hire a designer or have a designated room to make a play space that sparks creativity and imagination.
I created a free workbook with tips for how to implement these ideas, even with a small space or small budget.
This workbook walks you step by step through the process of figuring out how to create a dream playroom. Don't worry if you don't have a lot of money or if you're trying to organize toys in your living room. Download the free workbook to work past these obstacles and design a playroom that works for you and your family.
Tired of all the clutter? Here's why it's impossible to be clutterfree with kids.
These 7 Playroom Organization Ideas Will Help You Crush Overwhelm
#1: Add an Indoor Gym 🏃‍♀️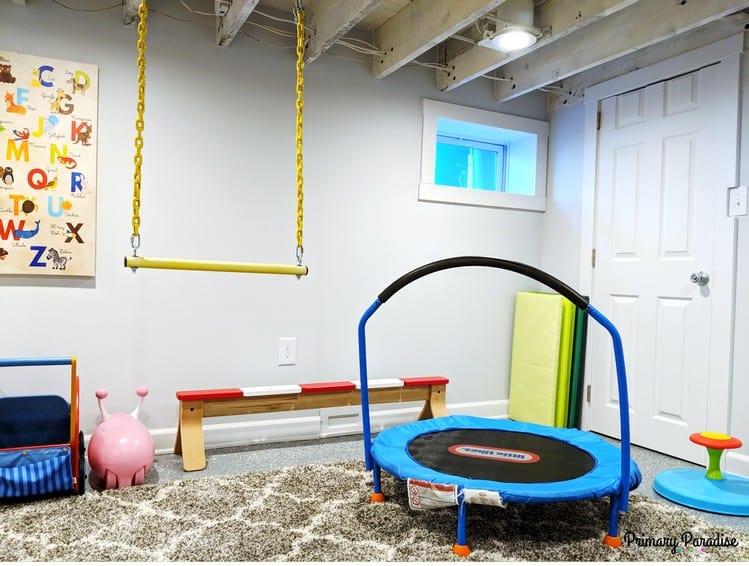 Have super active kids? Check this out. Martha from My Primary Paradise had the idea to include a mini indoor playground in their basement playroom, complete with a hanging bar. 😲
What I love about this playroom is it truly is a dream playroom, yet totally doable for most people. Hanging bar aside, here are the main components of this playroom:
Toy storage with sliding bins.
Labels on the bins include both pictures and words of what goes inside.
Creating a bench by putting pillows on top of a short toy storage unit.
Active gym area (great for getting energy out!)
A variety of area rugs, including both rugs that inspire play and rugs that are appealing to adults.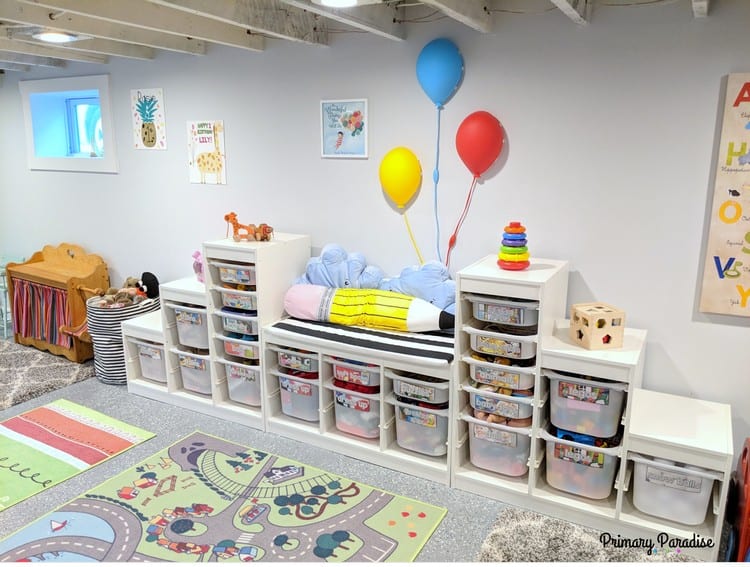 While it might take a lot of work to replicate Martha's playroom 100%, each piece is possible to accomplish in a weekend or afternoon.

To see more of this playroom, check out My Primary Paradise.

👉 Overwhelmed by a messy house and don't know where to start? Grab this free decluttering checklist and learn the one thing that's keeping you from decluttering your home.

#2: Create a Secret Room 😍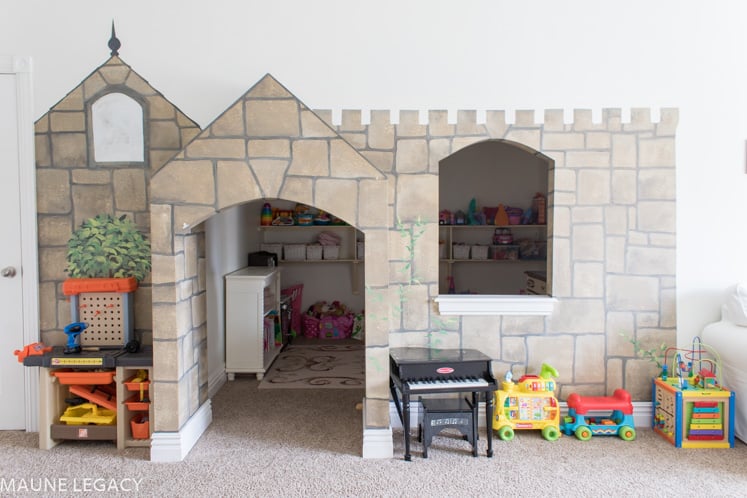 You guys! I am fawning over this playroom from Jennifer Maune, complete with a secret room. What?! A secret room?!
I'm always finding my kids under the tables or in dark closets with a flashlight. Kids love to have a space of their own, so this secret room is definitely a swoon-worthy feature.
While we can't all have a secret room built into our homes (sigh), here are some of the elements of this playroom you can add in your own home:

Adding a fun pop of color with a vibrant area rug.
Framing and displaying kids artwork.
Using shelves with baskets for toy storage.
Click here to see more of Jennifer Maune's swoon-worthy playroom (with secret room!).
Check out this: How many toys is too many toys? Read this post to find out.
#3: Use a Teepee to Create a "Secret Room"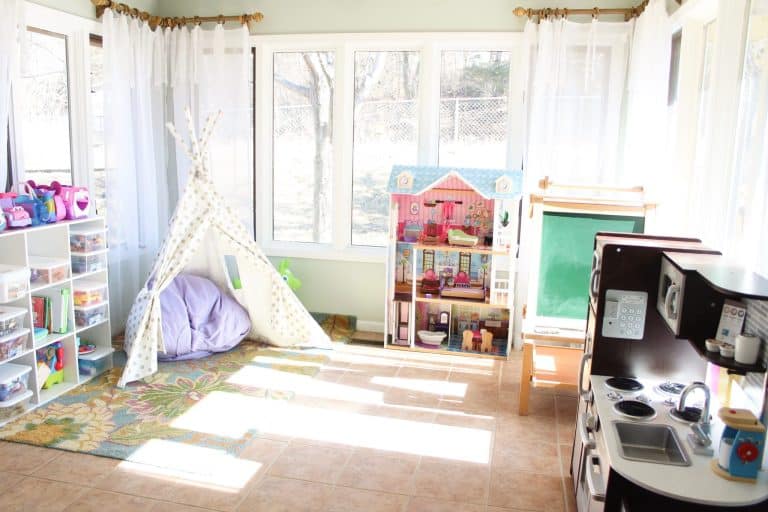 Okay, so maybe we can't all have a secret room built into our playrooms. So, what do you do if you want to create this intimate spot but don't have it in the budget to put up new walls? Teepee!
Erica from Whimsical September set up a teepee in the corner of the playroom. She added in a plushy bean bag, making it the perfect nook for kids to snuggle up and play.
Here are elements you can take from this playroom:
Teepee to create a "secret room"
Clear, plastic shoe bins as organizers (she got hers from the dollar store!)
Using a standard 9-cube storage unit to hold plastic bins
To see more of this playroom, head on over to Whimsical September.

👉 Overwhelmed by a messy house and don't know where to start? Grab this free decluttering checklist and learn the one thing that's keeping you from decluttering your home.

#4: Hang a Display Shelf for LEGO Creations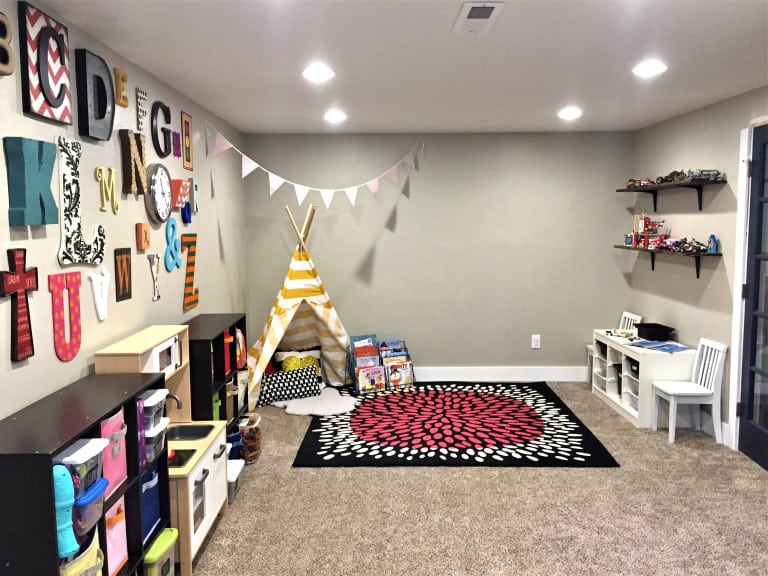 I am in love with the idea of putting up shelves to display LEGO creations. We currently shove them to the top of our bookcase to keep them out of reach from our one-year-old.
The display shelf is a great way to keep the LEGO creations up high and out of the way while displaying them for all to see. (Great for keeping tiny LEGO pieces away from smaller children who beeline across the room to get a taste when they see small pieces on the floor. Speaking from experience. 😂)
Here are some elements from this playroom you might want to incorporate into your own playroom organization:
Putting up a shelf to display LEGO creations. (Love this idea!)
Using a short toy storage shelf as a table.
Hanging a variety of vintage-looking letters to create an alphabet wall.
Teepee book nook complete with pillows and books.
Want to see more of Kirsie's playroom? Head over to Ooh Lah Lah Designs.
Overwhelmed by clutter? You're not alone. Use these 5 easy tips to declutter your life quickly.
#5: Rotate Toys for an Easy-to-Clean Playroom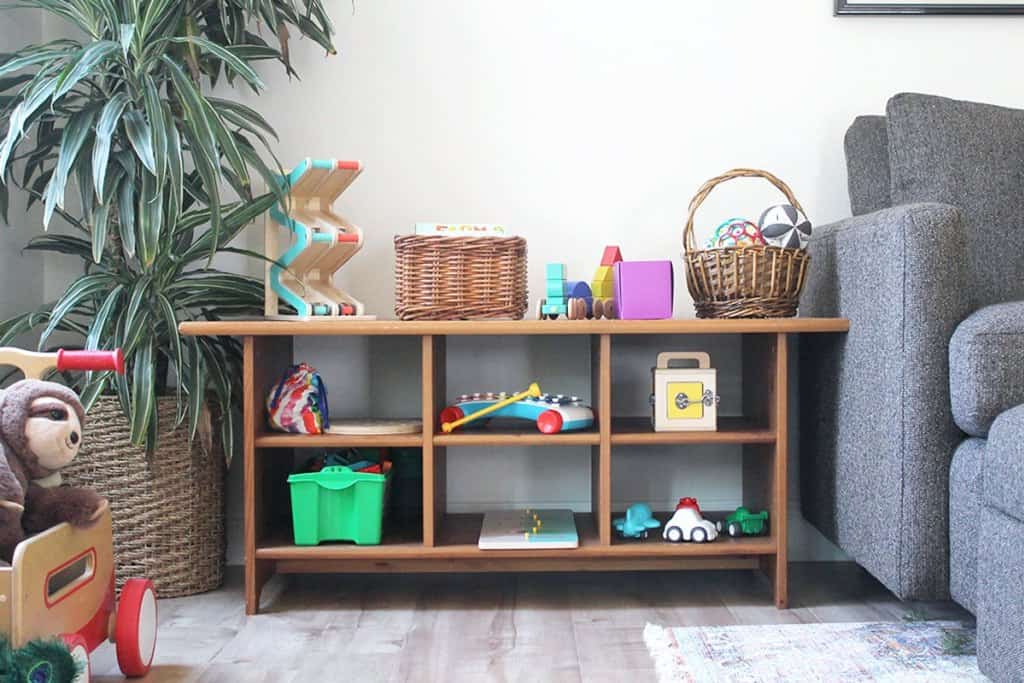 Check out this coffee table Kait from A Clean Bee found on Facebook Marketplace. It has cubbies to hold toys so they are easily accessible, yet easy to organize toys.
The coffee table has two purposes: toy storage and a table that is the perfect height for small children to play with their toys. Kait keeps 9-12 toys out at a time, with the rest stored in storage ottomans. She purges toys whenever it takes more than five minutes to clean up.
What I love about this is it allows you to practice minimalism and makes the playroom super quick to clean up. But it also allows your kids to have a variety of toys you can swap out when they get bored with a particular toy.
Toy rotation could be a great option for you and your family. The concept is simple:
Pick a handful of toys to put out.
Store the rest of the toys in a secret location your child has no idea of.
Once your child loses interest with a particular toy, swap it out while they're sleeping.
I couldn't find an exact replica of this coffee table, but this, this and this have similar concepts. Search for coffee tables that have shelves, cubbies or storage.
If you'd like to see more pictures from Kait's minimalist play area, check out her post on how to create a Montessori-inspired play area.
#6: Playroom Organization Idea for Older Kids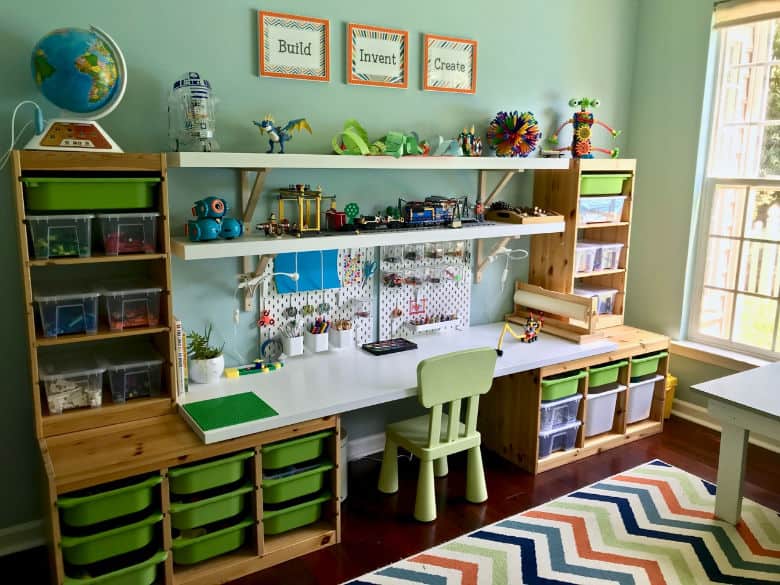 What do you do if your kids are past the toy phase and onto the creation phase? Whether your kids are into inventing, building with LEGOs, or doing arts and crafts projects, this playroom organization idea is for you.
Ashley from Nurture and Thrive created a MAKERSPACE when her son turned 7. This is an area focused on nurturing innovation.
Here are some of the elements that make up this space:
Storage for supplies such as pipe cleaners, paper, and scissors.
Space to work, build and play.
Display shelves for finished creations.
Take a look at Ashley's STEM MAKERSPACE for more ideas.
#7: Want Some DIY Playroom Organization Ideas?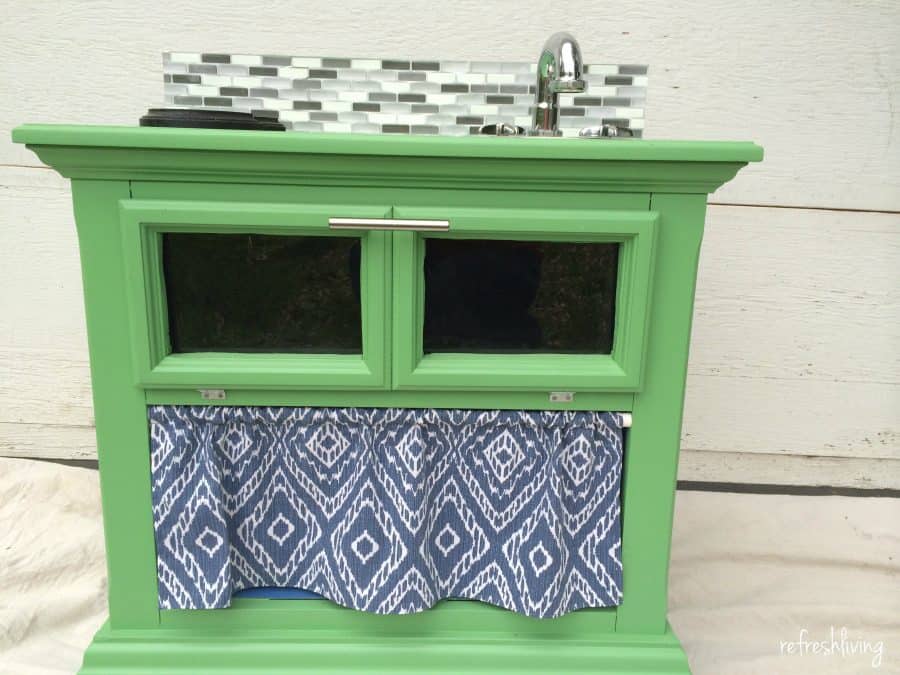 You guys, I am not a handy person. I've gone to the ER for cutting myself with a knife…twice. One of those times I sliced a bit of my finger off 😱 and it still has a scar to this day.

But, I am in awe of anyone who can take something old and make it new. Not only is it a budget-friendly way to create a playroom you love, but it's good for the Earth too!

Jenny over at Refresh Living created a bunch of great tutorials related to their playroom. Here are a few of my favorites:

Because I'm sure you're curious, here's the picture of the epic playroom complete with an indoor slide. You're welcome.

Do you have any great playroom organization ideas? Share them in the comments below!

👉 Overwhelmed by a messy house and don't know where to start? Grab this free decluttering checklist and learn the one thing that's keeping you from decluttering your home.

Pin for later…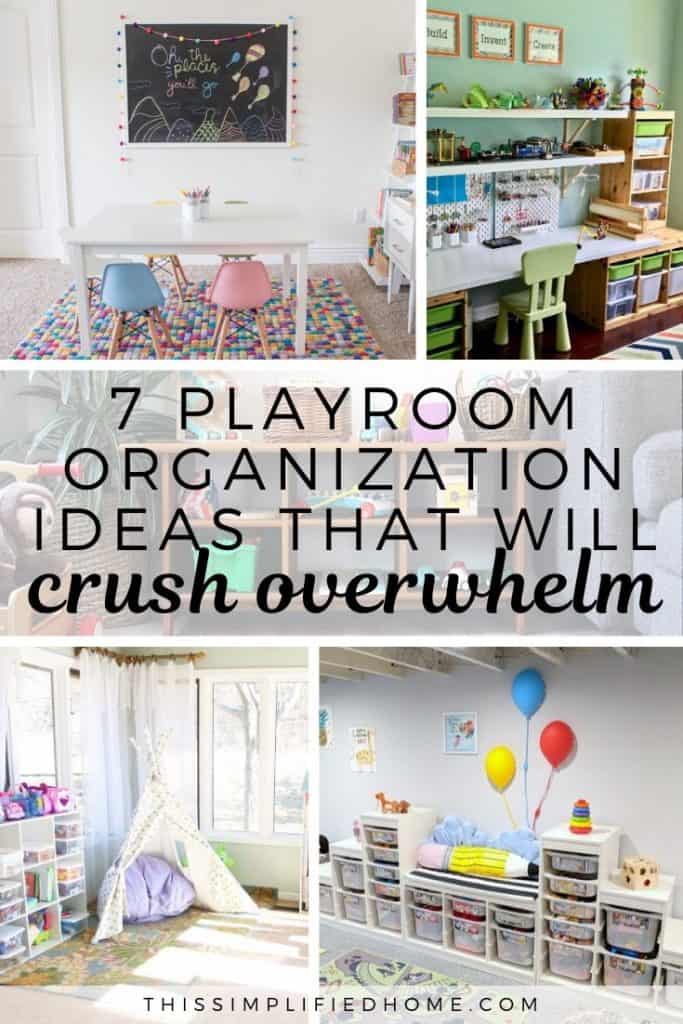 If you liked this post, you'll love…