In this post: If you have too many clothes, here are 5 simple questions you can ask yourself to help you get rid of clutter and declutter your wardrobe.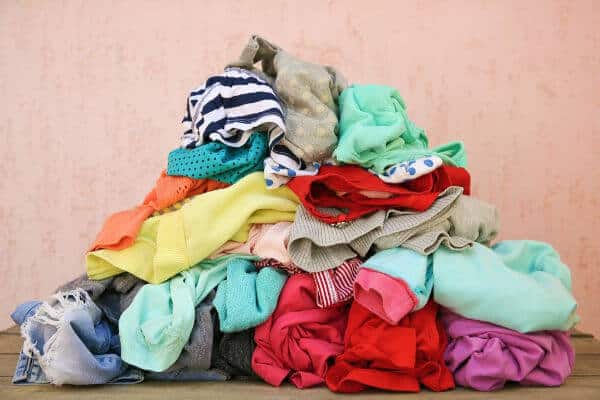 If you open the closet a mountain of clothes comes spilling out…you may have too many clothes.
If you have to do a hip check to get your sock drawer to close…you may have too many clothes.
And if you wear the same outfits over and over because you feel overwhelmed by all the choices…you definitely have too many clothes.
Well, no worries, friend. I gotcha. In this post, we're going to go through 5 easy questions you should ask yourself when you have too many clothes and you're ready to get rid of them.
5 Easy Questions to Ask When You Have Too Many Clothes
#1: Does It Fit Me?
If you've gained a bit of weight over the last few years 🙋‍♀️, then you know exactly what I'm talking about.

You might have a couple of odd things in your closet that no longer fit…or you could have a whole closet stuffed with them.

With each baby, I've gained 20 pounds that I can't quite shake. For the longest time I kept a full wardrobe from size 6 to size 14 (all the sizes I've been in the last 6 years).

The problem is, I'd open my closet, jammed packed with heaps of clothes and literally have nothing to wear because none of the clean stuff fit.

It was really hard to get rid of the smaller sizes. I had some really cute clothes that were sentimental to me. They reminded me of a time when I was more agile and energetic.

But I realized that I'm worth more than having constant reminders I've gained weight. You're worth more too.

You're worth enough to open your drawer to find clothes you love and that make you feel good. If, like me, you're on a journey to a healthier lifestyle, you're worth buying new clothes when you lose the weight.

It's okay to release the clothes. If it doesn't fit you, it's okay to let it go. I know it's hard.

👉 Overwhelmed by a messy house and don't know where to start? Grab this free decluttering checklist and learn the one thing that's keeping you from decluttering your home.


Decluttering isn't hard because we don't know the steps — in fact, I think the steps to declutter your home are so stinkin' easy, anyone can do it.

What's hard is the emotional weight we give to our clutter.

But friend, I'm here to tell you: if you are dragging around clothes that don't fit you…they're clutter.

I'm not saying you have to get rid of everything in droves. I'm not a fan of the KonMari method because it requires you to declutter your whole home all at once.

Rather, take the slow route, and declutter like you're peeling back the layers of an onion.

If you have a few things in your closet (or loads) that don't fit, go ahead and do a once over. Are there any you can part with today?
#2: Does it Have More Holes Than Fabric?
My husband hates my socks. Everything will be fine all day as we run around after the kids, do chores and spend time together.
But at night, after the kids are asleep, we'll assume our positions on the couch to chat and watch some TV.
And that's when it happens.
Not thinking much of it — only that my feet are stinkin' tired from running around all day — I'll put up my feet on the ottoman…and reveal the inch wide holes in my socks. 😱
"Why don't you throw them out?" he asks. "Your socks have so many holes that the holes now have holes."
"I dunno," I reply.
Blame it on my frugal roots (I was praised by my depression-era grandmother for being so thrifty) or the fact that I have more important things to do (like catch up on Instagram), but I'm the worst when it comes to getting rid of clothes that are past their prime.
If you go through your drawers or closets and find clothes that you don't wear because they're damaged…get rid of them.
There's no point in junking up your wardrobe with stuff you don't wear, especially if they have holes.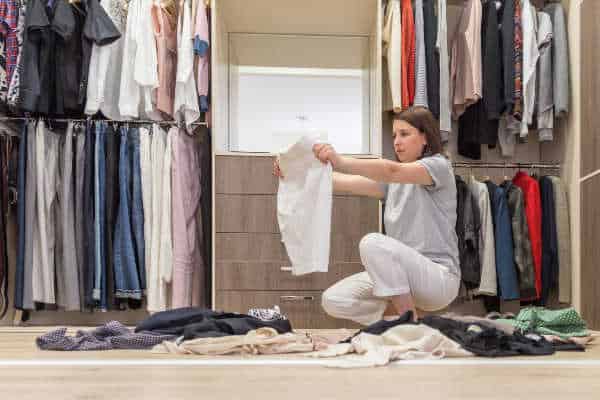 Here are two reasons we hang onto damaged clothing:
We're too frugal to wear the nicer stuff. Aka, we're saving the "good stuff" for a rainy day.
We have guilt about sending things to the landfill.
A word about landfill guilt: it's a real thing I experienced all the time when I started decluttering 5 years ago.
It's important to remember that your home isn't a landfill and you and your family deserve better. You wouldn't tell your family to go live in a landfill, so why bring the landfill to your home?
A lot of the guilt regarding sending things to the landfill has to do with making poor purchasing decisions in the past. Release yourself of the guilt and shame…and make better decisions in the future.
Buy high quality items that will last (yes, they might cost more).
#3: Do I Like This?
When going through your clothes, ask yourself if you even like it. If you don't, get rid of it.

I'm not asking you to go buy a whole new wardrobe (I'm way too frugal for that). What I am asking you to do is to only keep the stuff you truly love.

If you feel like junk every time you put a certain shirt on, you're unlikely to wear that shirt very often. It fades to the back of the closet, hidden and forgotten like all the other shirts you don't like.

I don't know about you, but I wear the same clothes over and over, week after week. I don't wear stuff that's itchy, hard to wash, or requires a lot of adjusting.

The clothes I keep are not fashion forward…honestly, my stay at home mom wardrobe consists of yoga pants and t-shirts. But they're comfortable, and that's why I love them.

👉 Overwhelmed by a messy house and don't know where to start? Grab this free decluttering checklist and learn the one thing that's keeping you from decluttering your home.

#4: Do I Wear It?
You may have sweaters that you love, but there's no sense in keeping them if you moved to Phoenix.
Just because something fits you and you love it…doesn't mean you have to keep it.
Let's put it this way: would you rather have the stuff or the life you dream of?
So often, we let clutter stand in the way of the life we really want. So ask yourself if you're willing to let something get in the way of your dreams…just because you like it.
Now, if you have a gigantic walk-in closet, you might decide to keep a full runway of clothes, even if you don't wear them.
But you came here for advice on what to do when you have too many clothes. And while it might be hard advice to hear, if you don't wear it, you don't need it.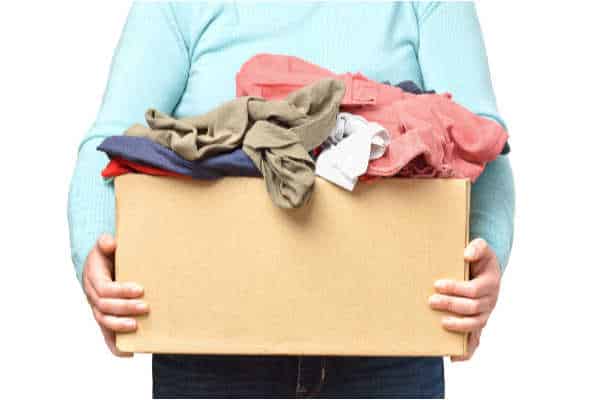 #5: Is It Sentimental?
If you find yourself hemming and hawing on clothes that you don't wear but don't want to get rid of, ask yourself "Is it sentimental?"
It could be sentimental in an obvious way, i.e. your grandma knitted that sweater before she passed. Or your wedding dress, which hasn't seen the light of day since your wedding day.
But there's also less obvious ways, clothes can be sentimental, like the clothes that fit you before you had babies or before you had health issues.
It could be the expensive clothes you bought before you went through a financial crisis. Or the business clothes you wore before you became a stay at home mom.
Whatever the case may be, if you're struggling to declutter clothes because they're sentimental, take a step back.
Focus on getting rid of the things that are easy to get rid of, like the stuff that's damaged. Once you've cleared out a bit of clothes, ask yourself these questions about the sentimental items:
Do I want to keep this? (If you don't, let it go. Even if you cry.)
Do I have room to keep this?
Will it get in the way of me living out my dreams?
You Don't Have to Get Rid of Everything
If you want to keep clothes — even if you don't wear it — as long as it doesn't cause frustration, doesn't get in the way of your dreams and you have the room to store it…

You have my full permission to keep it.

Because here's the secret: decluttering is not about the stuff.

Decluttering is about removing the blocks that get in the way of you reaching your dream. And if keeping a few extra items of clothes in the back of your closet doesn't stop you from doing that…there's no harm in keeping them.

When you have too many clothes, it causes frustration because it takes extra time to get dressed in the morning.

Not only that, it's hard to manage the cleaning and putting away of too many clothes. Removing clothes can help give breathing room and will make your life just a little bit easier.

But don't feel like if you haven't gotten rid of every last thing that doesn't fit or has a hole, that you've failed.

Just remember: It's not about the stuff. It's about the life you want to live with that stuff.

Now, go live your life.

👉 Overwhelmed by a messy house and don't know where to start? Grab this free decluttering checklist and learn the one thing that's keeping you from decluttering your home.

Pin for Later