Inside: Do you have 1,000 things floating around in your head? Here are the three best apps for moms that will make you more productive, more relaxed and happier.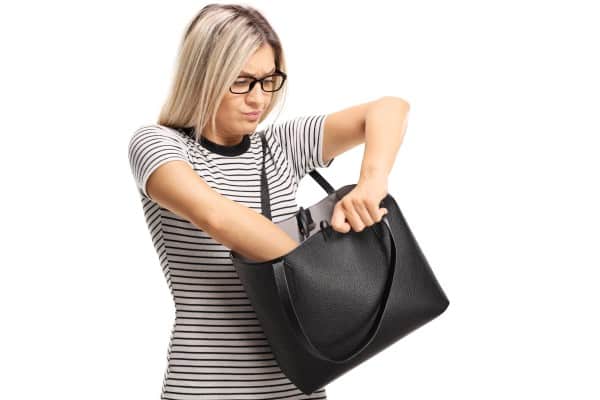 "This is impossible!" I yell as I try to jam a gigantic planner into my purse.
I had all the best intentions: buy the planner → stop forgetting simple things like buying toilet paper → start having time to bake cookies from scratch → win mom of the year award. 🏆
It was going to be perfect. No longer would I have to stare blankly at a friend as I tried to remember if I was free on Saturday.
I would use my planner to remind me all these things so I would never again be the parent of the only child wearing green on Valentine's Day.
Only one problem: It was huge.
So big, in fact, that I rarely had it with me. And when I rarely had it with me, I didn't have my schedule to tell people on the go if I was available for something.
I ended up telling people I'd get back to them (probably a good habit anyways…gives you time to think before you overcommit) and sending an email to myself with a reminder to check my planner.
Friend, maybe you've struggled just the same. Maybe you have 3 planners that you bought with good intentions…only to use them a couple of weeks before abandoning them.
While I now use a combination of digital and paper (for writing down chores so they don't clog up my digital calendar), all of my important dates, to-do lists and things I can't forget to buy are digital.
And I'm never looking back.
Here Are 3 Reasons You Should Ditch the Clunky Planner: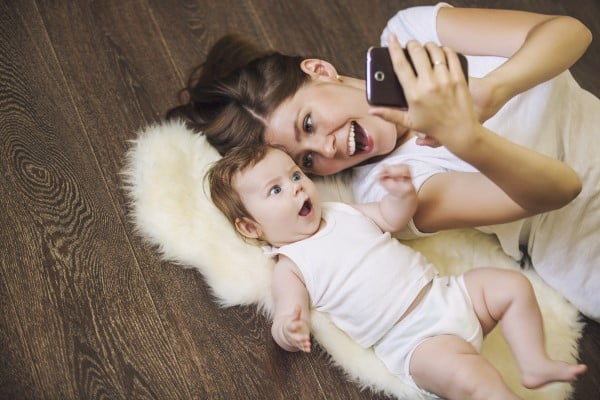 #1: You always have your phone with you.
There are many times I leave the house with just my wallet, phone and keys. While I rarely carry a purse big enough for a planner, I always have my phone.

I dare you to think of the last time you didn't bring your phone when you went out somewhere. Odds are, you can't remember a time.

As technology becomes more and more a part of our lives, it just makes sense to keep your important dates and to-do list on your phone.

👉 Overwhelmed by a messy house and don't know where to start? Grab this free decluttering checklist and learn the one thing that's keeping you from decluttering your home.

#2: Most planners are heavy.
I love paper planners, and will probably always use one in some capacity. I can set it right on my kitchen counter, where I'll see it and remember I have a load of clean laundry sitting there in the washer, wet and waiting to be moved over.
But paper planners are terrible for on the go, which is where most of us make our plans.
Paper planners are heavy, bulky, and cumbersome. Compare that to digital, which fits neatly on your phone (which you already have with you) and can be pulled out at any time to make an appointment.
#3: Digital backs up.
It depends on the app you use, but most apps for moms have some sort of back up feature. Meaning — if you lose your phone, accidentally drop it in the bathtub or your toddler hides it in the laundry hamper, you're covered.
Can you imagine filling out months' worth of appointments in your paper planner, only for your kid to knock over grape juice that gets all. over. the table??
It makes the pages wrinkle, stick together and smell like a playdate at the park on a hot, summer day.
Let's compare that to digital. If your kid knocks over grape juice, you'll most likely just be able to wipe off your phone and be on with your day.
But even in the worst case scenario of your phone being destroyed, when you get the new one you can sync the data, and "voila!", it's all there.
The 3 Best Apps for Moms Who Are Sick and Tired of Being Overwhelmed
#1: Google Calendar
Google Calendar is my favorite app for keeping my schedule. It's versatile, can be used on the go and you can check it or update it while rocking a baby at 3 a.m.
It can go across any device or platform (which cannot be said of the native calendar app on iPhone). So you can use it on your iPhone, iPad or desktop computer…if you also jump ship to Android (or vice versa), you can still use it.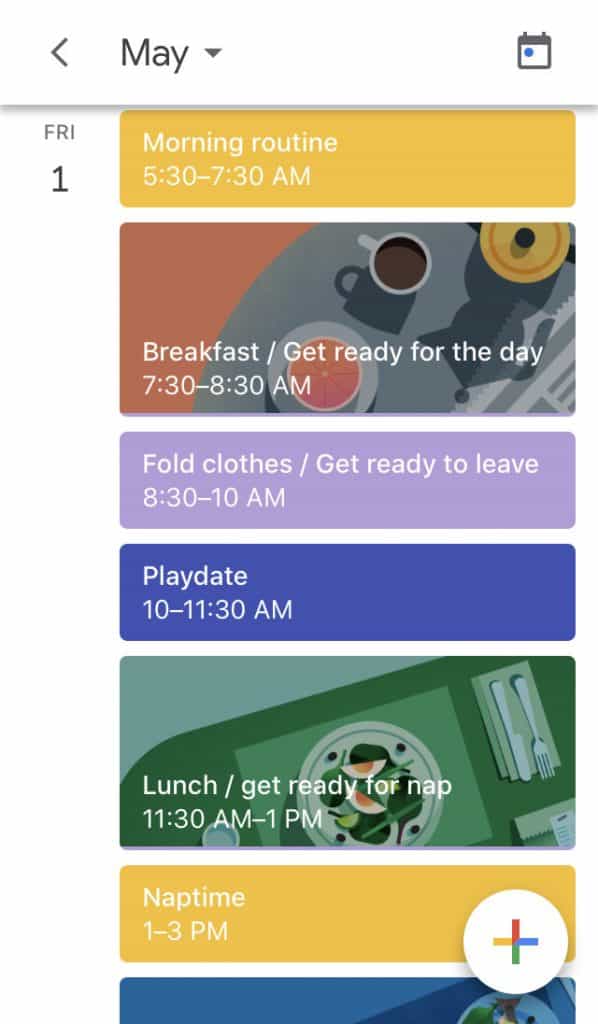 It automatically syncs to the cloud if you have internet. If you don't have internet (or have decided not to use mobile data when you're on the go), it saves new appointments and will sync the next time it has internet.
I use Google Calendar to plan out my whole day, as well as setting recurring reminders for my cleaning schedule.
Because seriously, with mom brain, I wouldn't notice the laundry needs to be washed until we're out of underwear. Since I've set recurring reminders for chores, all I need to do is look at that list at the beginning of the day to see what I have to do that day.
#2: Ten Percent Happier
Last year, when my anger and anxiety had risen to all new heights, I knew I needed to make a change.
I went to therapy, started walking daily and tried to stick to a regular sleep schedule. (Not always possible with a baby who wakes at night.)
All of those things were helpful for decreasing my anger and anxiety, but none was as groundbreaking as paying for the meditation app Ten Percent Happier. This is one of my favorite apps for moms.
Based on the book of the same name by an ardent skeptic to meditation who fell in love with the results, the Ten Percent Happier app has all sorts of guided mediations by seasoned pros.
There are meditations based on various topics, such as stress, happiness, anger, anxiety, and dealing with difficult emotions, to name a few.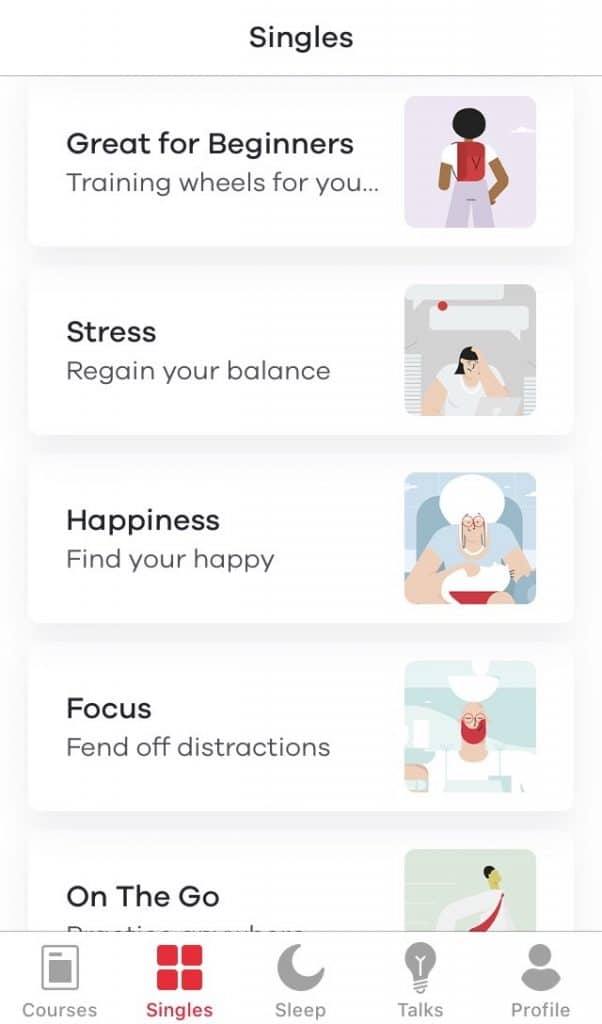 During each meditation, the teacher guides you through ways to deal with that emotion and helps you visualize how you want to act the next time you're in that situation.
On top of that, they have courses where the meditation is coupled with a video that gives you logical strategies for improving a certain area of your life.
I highly recommend the app. Immediately after I started using it, I noticed for the first time when I was starting to feel frustrated and could remove myself and take a few deep breaths. Before I started meditating, I would keep myself calm and bottle up all of the emotion before being triggered and exploding with seemingly no notice.
Meditation helped me realize that I was living in a constant state of tension. Even when I thought I was calm, I was holding so much tension in my shoulders and back.
Which made sense why I lost my cool at little things, such as inconsiderate parents cutting me off in the school drop-off line. (Yes, I was the angry mom!)
Can you meditate without an app? You bet. But in my opinion, it's sooo boring. Any time I tried to start a meditation practice in the past, I'd feel itchy and antsy and would spend the alloted time thinking "When will this be over?!" which defeats the point of trying to quiet the mind.
Having the guided prompts is enough to help me quiet the endless chatter in my mind.
And they have sleep meditations, which is great if you suffer from insomnia like me: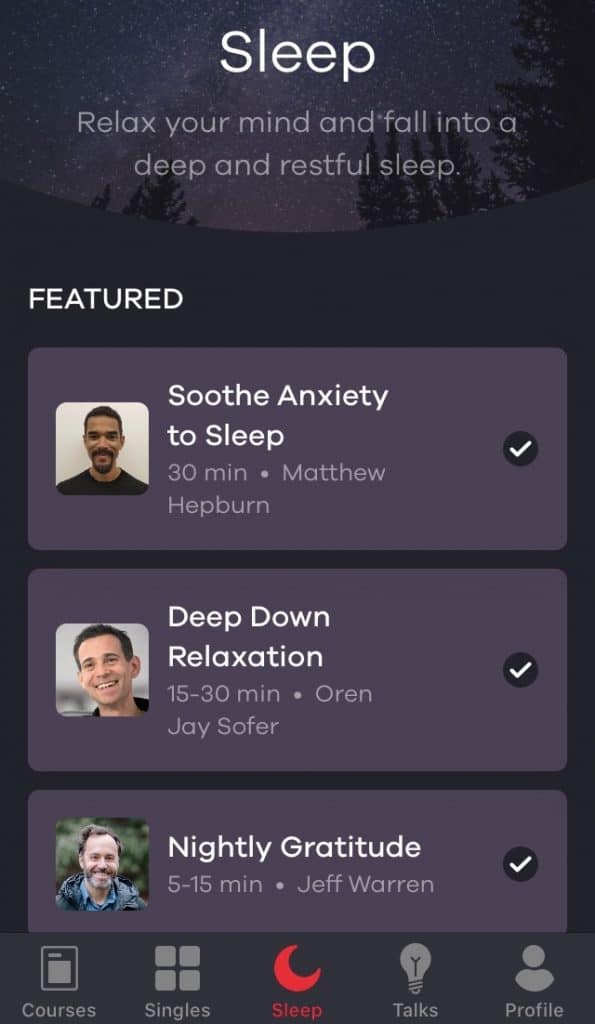 #3: Trello
Trello is a free app for moms or anyone who has a million and one things going on at any given time.

Trello helps you manage your various to-do lists. It's a widely used app in the entrepreneurship world, but I don't think a single one of my mom friends knows about it.

And that's a dang shame.

Because as moms, we juggle so many things, usually at the same time. Writing down a list of all of our to-dos on paper can easily become overwhelming.

To make it more complicated, there are things to do today, things to do this week, and things that don't have a deadline but would be nice to get done.

(I'm looking at you, powder room toilet that keeps backing up. Can we survive without you? Absolutely. But without you, does the hall bathroom become much smellier? You bet.)

👉 Overwhelmed by a messy house and don't know where to start? Grab this free decluttering checklist and learn the one thing that's keeping you from decluttering your home.


Let's say spirit week is coming up at your kid's school, you are on a committee at church and you make a point to text each member of your family at least once a week. All this added to the daily chores and tasks you do around the house.

You can have a list for each (called boards). Each board can have multiple items, which can be quickly added or deleted as you accomplish things.

Within each board, you can create several lists. Think of a board as a desk or table. Then each list is your sticky notes that you've plastered all over it.

You could have one board with all your personal to-dos on it, and lists for things like grocery list, weekly chores, or things to buy on Amazon.

You could also have individual boards for bigger projects.

Let's say you're planning a big bash for your kiddo's birthday. You might have a bunch of things that need to happen in the next few months as you gear up for it.

Create an entire board dedicated to the birthday party, then create lists for the different parts of the party, i.e. invitation list, food, decorations, etc.

Here are some ideas of boards or lists you could create using Trello:
Grocery list
Things to buy on Amazon
Books to read
Art projects for kids
Bucket list vacations
Things you need to do for your kids school
Date night ideas
Summer activity ideas
The possibilities are endless.
Feel Relaxed Even With a Toddler Strapped to Your Leg
While I'm a fan of using apps for moms that keep me organized, I also believe it's easier to get it all down on paper first.
That's why I recommend you grab a piece of paper and set up a daily routine. It will help you organize the chaos that typically surrounds us if we let it.
By setting up a simple routine, you can decrease overwhelm, spend less time cleaning and have more time to do the things you enjoy…like eating the fresh-baked cookies you just made with your kids.
Click the pink button below to grab your free copy.
Pin for Later