Laundry. Whether you love it or hate it, it has to be done. When my first child was born, I couldn't understand how this seven pound bundle of joy could more than triple our laundry loads. Between the burp cloths, cloth diapers and multiple outfit changes for both baby and parents due to the mass amount of spit up, it became clear very quickly that what we were doing wasn't working.
Maybe you are like us, forgetting that laundry needs to be done until the clean clothes run out. Or maybe you're guilty of forgetting about a load in the washer, only to find that a couple days later it smells and needs to be washed again. Been there! You are not alone, Mama.
In this post I'll walk through how to create a weekly laundry schedule that best fits your life and your family, we'll talk about tips for making laundry easier, and I'll share two of my laundry schedules (one with cloth diapers and one without).
Laundry Tips for Busy Moms
Pop in a load as soon as you wake.
By throwing a load of laundry into the washer as soon as you get up, often it will be done washing before you are done with breakfast. If you are going somewhere for the day, pop the laundry in the dryer before you leave so you'll come home to a clean load ready to fold.
Break it down.
Instead of adding "laundry" or "clothes laundry" to your to do list, be specific. Laundry typically has four parts: wash, dry, fold, put away. You can write each of these out as it's own "to do." I just abbreviate it into one to-do item, i.e. "W D F P Clothes."
Don't let it wait until tomorrow.
If I am tired and still have a load of laundry to fold at the end of the day, it usually takes an ounce of willpower to fold it. If I let the laundry sit overnight, miraculously it now takes a pound of willpower to fold it. Barring emergencies, I always try to fold the laundry before I go to bed.
Use a timer.
Timing how long it takes to fold a load can be a great tool to use against the "idontwannas." It's a heck of a lot harder to procrastinate folding the laundry when you know that to fold and put it away only takes 15 minutes. It also helps you to be able to fit it into those moments when you're waiting to go out somewhere or for dinner to finish cooking.
How to Create a Weekly Laundry Schedule
1. Determine what needs to be done.
Laundry that is typically washed on a weekly basis would be clothes, towels, and sheets. You might have enough delicates to do a weekly load (like I do in the case of my husband's work clothes). Or you might have a load of heavy duty dirty clothes every week (if you have a child that plays a sport, for example).
Write down a list of the types of laundry you need to wash on a weekly or biweekly basis.
2. Pick the days that work best for you.
I personally would rather have one load of laundry to do every day than have seven loads of laundry to do one day per week. Depending on your schedule, it might work better for you to pop a load in the washer every morning and throw it in the dryer before you leave the house. Or maybe Mondays through Thursdays are a rush of activity and it would be less stressful to do laundry Friday through Sunday.
3. Set up a work-in-progress schedule.
We're not aiming for perfection here. It doesn't exist. But what we can do is estimate a schedule and refine as we go. Your first laundry schedule will be your starting point, which you'll refine and change until you find what works best for you. The schedule might even change from week to week depending on what else is scheduled.
4. Adjust as necessary.
Some things you just won't know until after you start, like how often you need to wash certain items. You might find that washing clothes twice a week isn't enough to keep on top of it or that you don't accumulate enough delicates to warrant a weekly load.
My Weekly Laundry Schedules
Weekly Laundry Schedule with Cloth Diapers and Using a Small Capacity Washer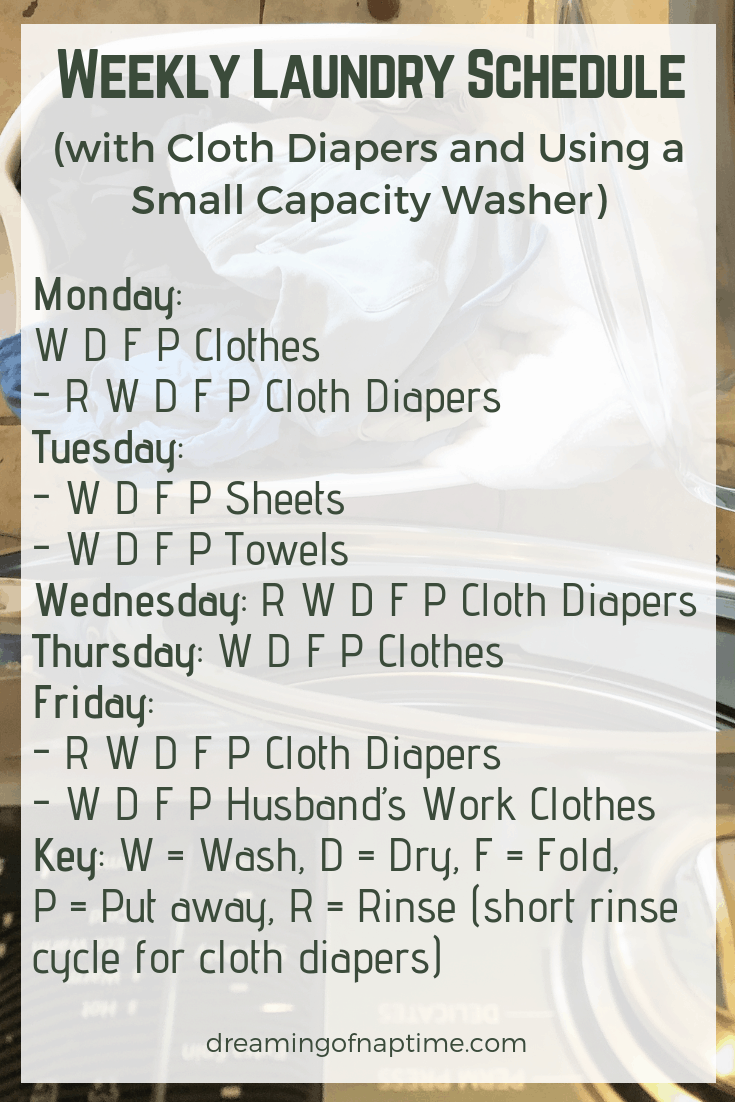 When my son was a baby, we decided to cloth diaper and wouldn't you know it, with that decision came a lot of laundry. At the time, we also had a typical top loading washer and therefore had to do smaller loads. Here is what our laundry schedule looked like:
Monday:

W D F P Clothes

R W D F P Cloth Diapers

Tuesday:

W D F P Sheets

W D F P Towels

Wednesday:

Thursday:

Friday:

R W D F P Cloth Diapers

W D F P Husband's Work Clothes
Key:
W = Wash

D = Dry

F = Fold

P = Put away

R = Rinse (special short rinse cycle for cloth diapers before washing them on a heavy duty cycle)
Weekly Laundry Schedule Using a Large Capacity Washer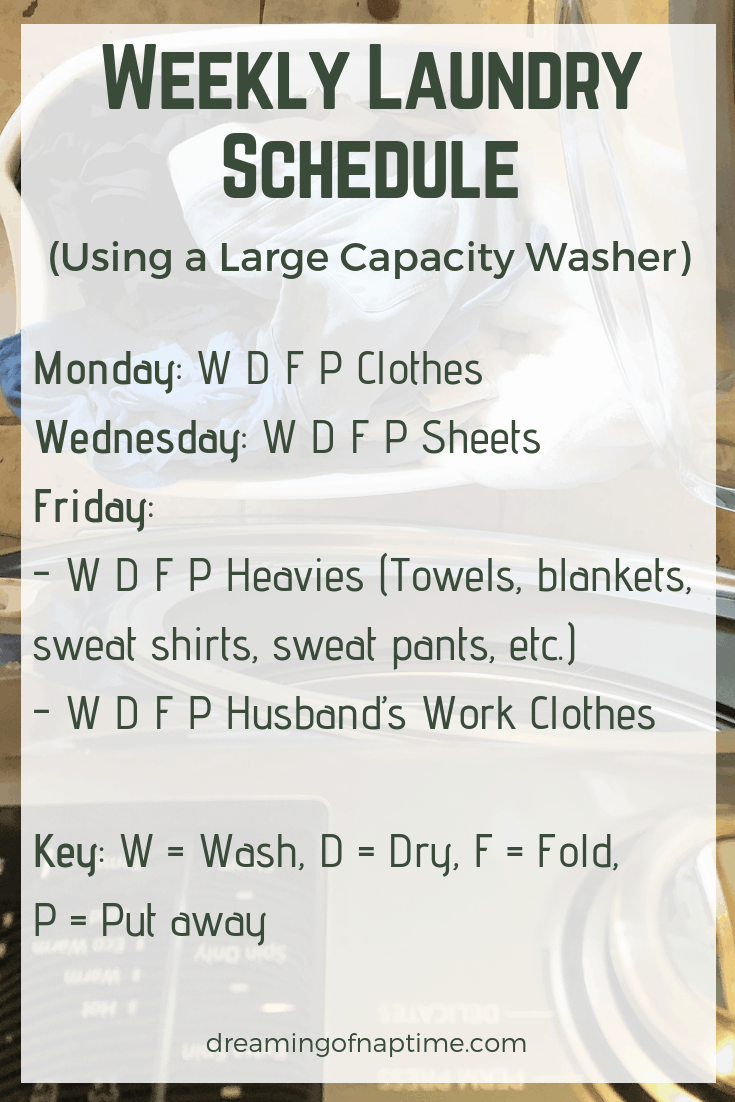 Fast forward a few years. Our washer has since broken and been replaced by a shiny, new large-capacity model and my son is potty trained (Hallelujah!). Here's what our weekly laundry schedule now looks like:
Monday:

Wednesday:

Friday:

W D F P Heavies (Towels, blankets, sweat shirts, sweat pants, etc.)

W D F P Husband's Work Clothes
Key:
W = Wash

D = Dry

F = Fold

P = Put away
Note: One thing you may notice about my laundry schedule is that I do not sort based on colors, I only sort based on heavy duty-ness of the item. I found that it simplifies laundry greatly.
Let me tell you a secret…
If you keep up with laundry, it becomes no big deal if life calls you to skip a day, or a week. Imagine a friend calls with an amazing invitation. Do you want to turn it down because you literally have nothing to wear?
Or imagine there's a family emergency. Being caught up on laundry allows you to drop everything and go help for a few days without worrying about your own house exploding from all the dirty laundry.
Keeping a weekly laundry schedule allows you to take control of laundry instead of letting it take control of you.
Other posts you might find interesting…