Inside: Hate to clean? I'm right there with you. After keeping a tidy home for five years, here are 7 reasons I love living in a tidy home. I think you will too.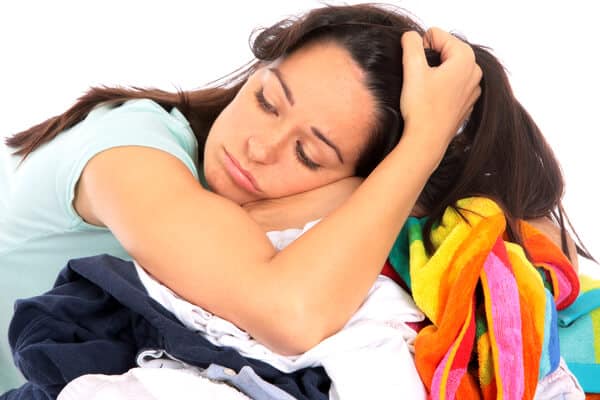 I'm a messy person. At least, I used to be.
We had one room so packed full of stuff that you couldn't walk into it. We never had clean dishes when it was time to cook dinner.
And dog fur rolled across the floor like tumbleweeds in the Wild West.
But five years ago, it came to the point when I was ready to lose it.
I had just given birth to my son, and while on a walk on the brisk Wyoming spring morning, I walked past a hoarder house and realized that I identified with them all too much.
You see, I don't clean in my free time or get excited when spring cleaning comes around.
And while I don't like cleaning, what I learned is that I love having a tidy home. Here are 7 reasons I think you will love keeping a tidy home:
7 Reasons to Keep a Tidy Home
#1: A Tidy Home Saves Time
Can you imagine how much time you would save if you weren't always looking for your keys?

I used to spend 10-15 minutes every. single. day. before leaving the house just searching for stuff. I couldn't find my wallet, I couldn't find my phone and I most certainly couldn't find the one thing I absolutely need to lear the house: my keys.

If you spend time searching for things over and over, you are wasting time. Instead, decide where every item in your house belongs.

I used to hate the saying "A place for every thing and every thing in its place."

Hate it or love it, it's true. If you assign a spot for an item to go, you'll spend way less time searching for that item.

👉 Overwhelmed by a messy house and don't know where to start? Grab this free decluttering checklist and learn the one thing that's keeping you from decluttering your home.

#2: A Tidy Home Relieves Stress
There is a link between clutter and anxiety. Not only can clutter add to your anxiety, it also can make you distracted and less productive.
Think of it this way. Clutter is a sign of a project that has yet to be accomplished. The more clutter you have around, the more projects you have.
It's no wonder that you can't relax if you're surrounded by "projects" calling your name.
You don't have to have a perfect house either. Perfection is a myth. It doesn't exist.
Instead, when you feel your anxiety rising due to the clutter, find a small project that you can tackle in 15 minutes or less.
Taking steps (even tiny ones) towards a tidy home can do wonders to decrease the amount of stress in your life.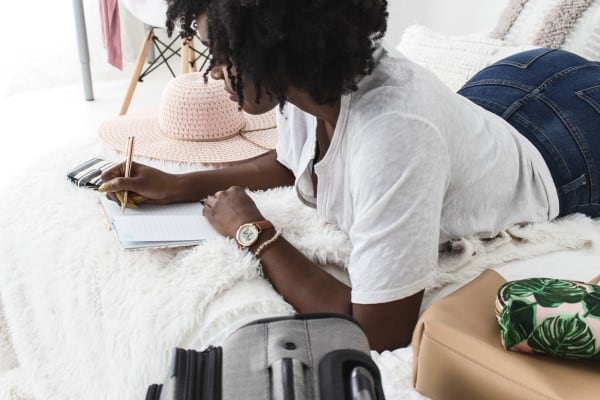 #3: A Tidy Home Takes Less Time to Clean
The more you keep things clean, the less time it takes to clean.
This may sound a little backwards, but stay with me here. Things are so much quicker to clean when you do a little bit at a time.
Which takes longer?
Rinsing off a dish as soon as dinner is over, OR
Trying to scrape that stuff off in the morning.
As someone who has scraped many a dish 🙋‍♀️, the answer is obvious. What takes a couple of seconds to rinse off right after dinner can take several minutes (or hours if I set it to soak and then forget about it) to soap up, scrub, and scrape.
Not only that, it takes so much more energy to jump into a big cleaning project than it does to put a few things away.
In my experience, it only takes a second of discipline to clean up a few things. BUT…it takes me hemming and hawing for several days until I feel motivated enough to clean up a big project.
#4: A Tidy Home Teaches Kids Good Habits
Here's the real reason I gave up my messy ways and got my act in order: I gave birth to a tiny, precious little human being.

He came into the world with no concept of clean or dirty. He didn't know that dirty socks don't belong on the floor and that you shouldn't let wet laundry sit for days.

And I'll be darned if he learns those messy behaviors from me.

Your kids are watching. They may not listen to everything you say, but they are slowly absorbing our habits, both good and bad.

This is not meant to shame you. There are many reasons we fall into living in dirty homes, and some may be completely out of your control.

It took me YEARS to get over my negative self-image and to push forward towards having a tiny home. Heck, I'm still in the process.

But friend, it's soo worth it.

Start by changing your habits and your kids will learn. Take baby steps and give yourself (and your kids) a lot of grace and a lot of room to mess up.

👉 Overwhelmed by a messy house and don't know where to start? Grab this free decluttering checklist and learn the one thing that's keeping you from decluttering your home.

#5: A Tidy Home Decreases How Much You Have to Clean
This is simple math. If you have less stuff in your home, you have less stuff to clean.
The average home in the U.S. has 300,000 things. 😱 Do you really have the time to take care of that many things?
I don't know about you, but I sure don't. I have more important things to do, like snuggle my kids, get lost in Minecraft or nap — because sleep is everything.
Instead of having stuff for the sake of having stuff, give yourself permission to let go of the things you're not using.
#6: A Tidy Home Allows You to Get Messy
You know how often we did art projects when the kitchen table was littered with bills, dirty dishes and junk?
Zip. Zero. Nada. Never happened.
My son didn't finger paint until he was 3 years old. We just didn't have space for it.
The kitchen table was a hoarding zone for important bills and documents as well as junk mail and unread magazines. Everything that came in landed on the kitchen table.
Do you think I would let my son finger paint (or do anything messy for that matter) near the yet-to-be-paid electric bill? Heck nah!
I was shocked when I realized that having a tidy home allows us to have more fun doing messy activities. If paint gets on the table? No problem, just wipe it up.
Right now, my living room is taken up by a "jungle gym", which is what we call the random arrange of spare furniture. Every few days, we switch up the arrangement and the kids have a blast climbing, tumbling and laughing up a storm.
None of this would be possible if our house was cluttered in the first place. Because we have a tidy home, it means we have space to move things around…just for fun.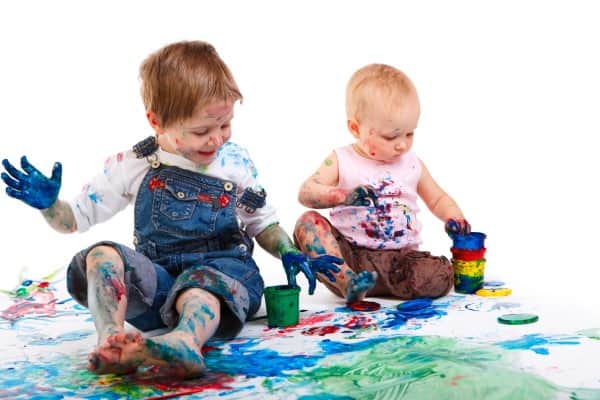 #7: They're Only Young Once
This reason makes me tear up.
We've been entrusted with these babies, who in the blink of an eye will be out the door on their way to college. We have these short, short years to mold our children into decent human beings and to enjoy all of the snuggles and hugs while they're young enough to think mom is cool.
The main reason to keep a tidy house is to spend less time cleaning and more time jumping in piles of leaves or making hot chocolate on cold days.
After all, as the old saying goes, "Home is where the heart is."
It's not about living in a house that is so spotless you're afraid to breathe.
It's about creating a home that is loving and warm and allows you to do the things you want to do.
Related: Why it's impossible to be clutterfree with kids.
Ready for a Tidy Home?
If you're ready to start taking tiny babies steps towards a tidy home, grab this free decluttering checklist. Print it out and use it to keep track of your progress and find motivation to declutter.

Hit the big orange button to grab the decluttering checklist!

👉 Overwhelmed by a messy house and don't know where to start? Grab this free decluttering checklist and learn the one thing that's keeping you from decluttering your home.

Pin for later…