Inside: Are clutter and anxiety getting in the way of you living your best life? Learn how they're related and 6 steps to kick clutter and anxiety to the curb.
Groggily waking up from slumber, I hear "Wahh!" Our baby is waking up for the 4th time that night and I. Am. Beat.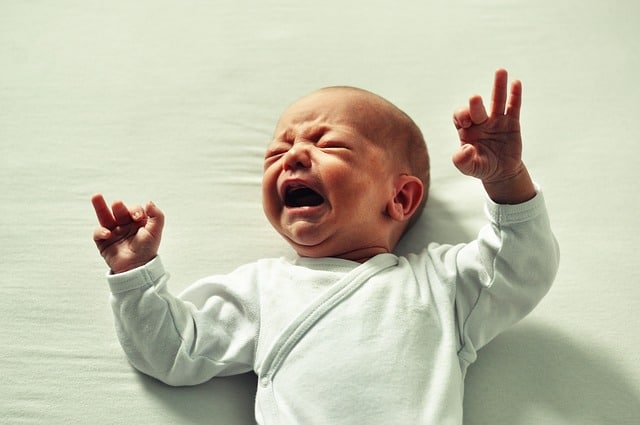 I saunter across the hall to pick up the wailing human. Before I reach the crib, the bottom of my foot connects with something sharp and pointy.
"Ow ow ow! What in the world?!" I scream, joining in on the crying party.
Kicking the toy across the floor, I scoop up the baby and angrily stomp back into our room where my husband is peacefully sleeping.
I yell, "I'm so sick of this! We have too much stuff! The clutter has to go!"
Maybe you've been in a situation where clutter has been the source of your frustration, overwhelm or anxiety. You've wondered if clutter is the cause of your stress, and if so, how to get rid of it.
While there are many potential causes of anxiety, clutter is a prevalent reason that affects many of us.
Related: Kick anxiety to the curb with my 5 best tips to declutter your life.
The correlation between clutter and anxiety
We've all been in a situation where clutter overwhelms us.
A mountain of jumbled shoes greets you when you walk in the door. A layer of dirty dishes covers the kitchen counter. Scattered bills and papers line the table.
When your home is cluttered, it signals to your brain there is still work to do.
No wonder you can't relax on the couch sandwiched between the heaps of clean laundry or sleep well in a bed surrounded by piles of books, clothes, and toys.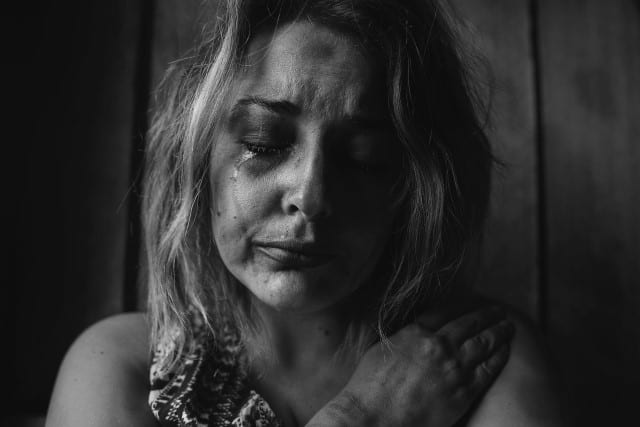 To top it off, many of us have negative self-talk when it comes to our disorganized homes. Healthline lists negative thinking as a common cause of anxiety.
Do you find yourself thinking "Why on Earth did I buy that?" or "Why can't I ever get my act together? What's wrong with me?"
This negative thinking could add to your anxiety, with the clutter at the root of it all.
Drowning in clutter? Start your 5 Day Decluttering Challenge today!
We have more stuff than ever.
In the documentary "A Cluttered Life: Middle-Class Abundance", author Jeanne E. Arnold says that "contemporary U.S. households have more possessions per household than any society in global history."
Let me repeat that: Americans have more stuff than anyone, anywhere, at any time. 😲
All the while, the size of the average US household is getting smaller.
While clutter is certainly not the only thing that contributes to anxiety, it is one of the few we have control over.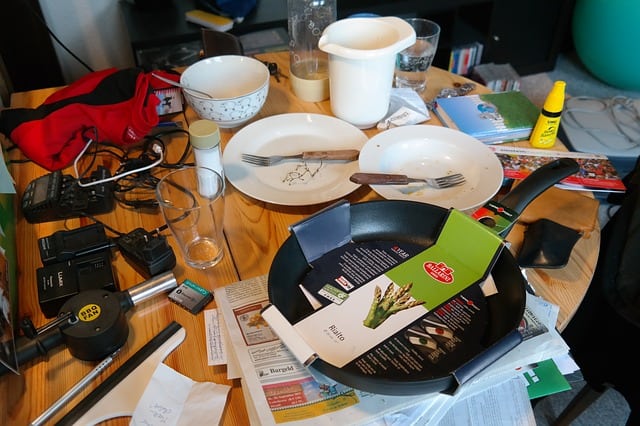 You can't control what happened in the past, a health issue you're currently battling or how many "treasures" your kids find at the park.
But you can control what you do with the clutter in your home and how much of it you're willing to keep.
How to reduce clutter and anxiety
#1: Identify which area gives you the most anxiety.
Maybe it's your bedroom when you're trying to sleep. Maybe it's the kitchen as you struggle to find a spatula while frantically cooking dinner.
What area gives you the most anxiety? What area causes you to lose your temper?
By identifying one area to begin with, you can be laser-focused on how you can improve that area.
#2: Start with a quick win.
Pick one small project that would give you the most bang for your buck.
I call these quick wins. Let's say your kitchen gives you anxiety because of the disorganization caused when you're trying to cook dinner.
Let me tell you, a kitchen is a massive project. Like, "This is gonna take me weeks (or months)" sort of project.
Pick one small task you could accomplish in 15 minutes or less.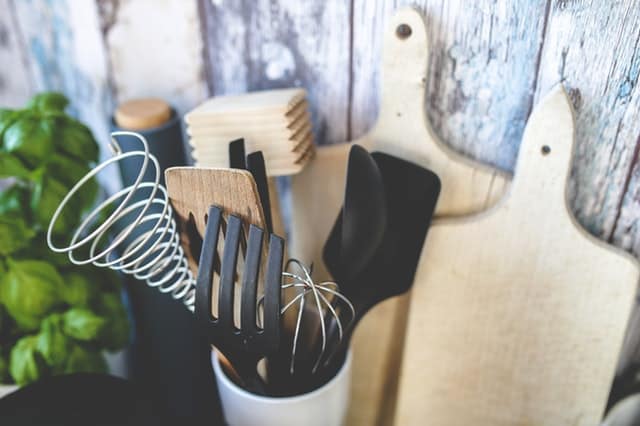 In the kitchen example, this might be going through the cooking utensils and throwing out the ones that are broken.
Or it could mean pulling out the two pots you use regularly and finding a more convenient location for them.
What is a task so small you can do it even when you're exhausted, but big enough it will move you closer to your goal?
Learn more: What to do when you're stressed out by the clutter but don't know where to start decluttering.
#3: Adjust your expectations.
If you're expecting to have a clean home with perfectly behaved children and fresh-baked cookies always ready to go, you need to adjust your expectations.
Why do we expect everything to be easy? Life is messy.
Sometimes children pull every single item out of your kitchen cabinets.
Sometimes the dog poops on the carpet and the stain never completely goes away, no matter how hard you scrub.
Sometimes the baby climbs into the pantry, finds the coffee container and shakes it until the coffee comes flying out. (Well, at least the vacuum smelled like coffee for weeks! 🤣☕)
But you know what I see in all of this?
Curious children who love to learn. A fluffy dog who saddles up to me when I cry from exhaustion. Oh, and a wonderful smelling vacuum! 😉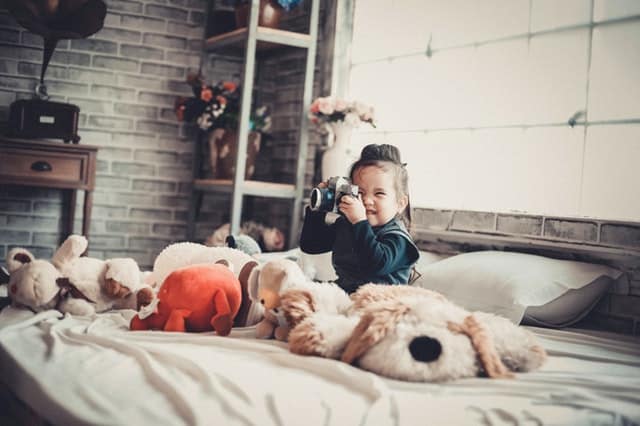 It's so common to expect life to be easy and everything to go according to plan. But keeping up this expectation can cause unnecessary stress and anxiety in our lives.
Adjust your expectations to what is reasonable at this stage of life.
One day your house will be quiet and you'll miss the chaos.
#4: Get away from the comparison trap.
It may be fun to browse pictures of clean homes on Pinterest or get lost in a few hours of shows on HGTV, but if you have anxiety when it comes to your home, you have to get out of the comparison trap.
It is okay if your friend's "before" looks like your "after". It's okay if your host apologizes for the mess and you can't tell what's out of place.
We weren't created to be the same, so our houses will not be the same. And that's okay.
#5: Try an experiment.
Not sure if your anxiety is related to clutter or if there's a bigger issue at play? Try an experiment.
Pick one small area you see often but will mostly stay clean by itself.
This may be your bedside table, a drawer in your desk or the formal living room you only sit in when company comes over.
Focus on decluttering this area.
In the following weeks, ask yourself how calm you feel when you see this area. Do you feel your blood pressure back off a bit? Do you feel more confident in yourself and your abilities?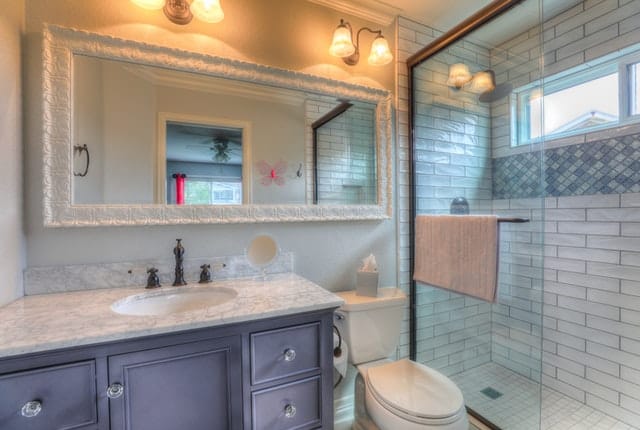 My master bathroom was one of the first areas I decluttered. Even if the rest of the house is a mess, I can walk into the bathroom and feel an instant wave of calmness.
It's so nice to see clear counters and a clean floor.
When I'm overwhelmed, this space reminds me the effort is worth it.
#6: Focus on progress, not perfection.
If you find yourself focusing on the things you have to do instead of the things you've already done, you've got it backward.
Give yourself a pat on the back for any progress you make, no matter how big or small. When you focus on making progress, you allow yourself to take imperfect action and feel good about it.
And you know what happens when you feel good about something? You want to do more of it. Before you know it, you'll be a decluttering machine knocking out major wins!
You can do this!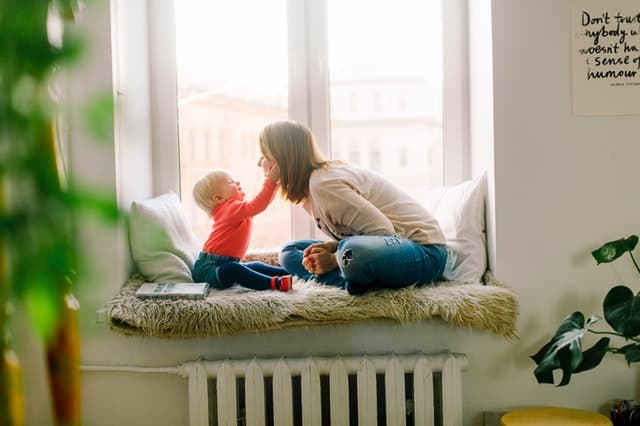 It's hard to get started when even the sight of your clutter gives you anxiety. While your first instinct may be to avoid decluttering, clutter doesn't go away by itself. You need to do the work.
Focus on tiny steps and making a little bit of progress each day. Small, consistent steps make a huge difference in the long run.
As author Karen Lamb said, "A year from now, you'll wish you started today."
Pin for later…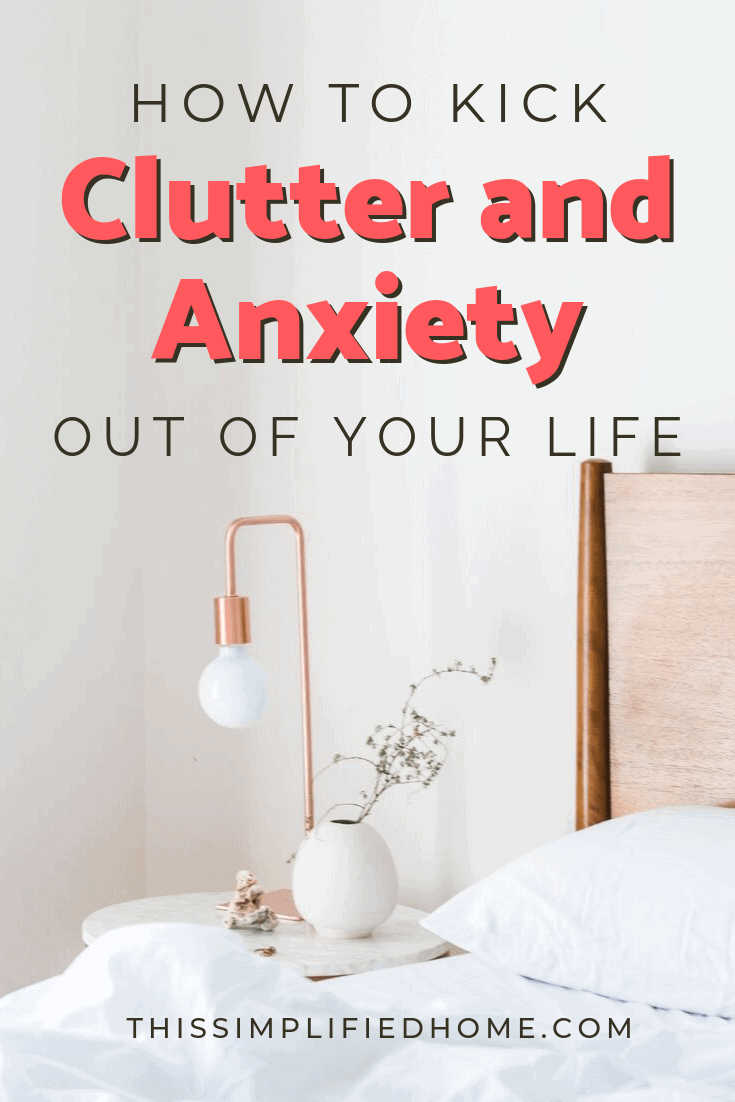 If you liked this post, you'll love…