You want to know how I decluttered my entire house when I am one of the least motivated individuals on the entire planet?
So often we think of decluttering as this big project. We see it on YouTube and in Marie Kondo's Netflix series, "Tidying Up." People take a day, a week, or a month (depending on how deep in clutter they are), and work vigilantly until the job is done.
That's great…except when you lose motivation, or a kid gets sick, or life gets overwhelming. Whatever the case may be, this is life and unfortunately, sometimes stuff pops up that's out of our control and derails our plans.
The point is, not all of us have this big chunk of time to focus on one thing and see it through to completion. We end up with a half project finished, or worse, we pulled out all of the items but never got around to sorting through them. Instead of the decluttered and simplified home you often see on social media, you end up with a mess that was worse than when you started.
Enter 20 minutes per day decluttering
Simply put, instead of seeing decluttering as a one time project to focus on until your bored and exhausted beyond your capabilities, it's possible to see decluttering as a simple habit that you introduce to your daily life.
Here's the simplest way to introduce a decluttering habit into your life:
Pick a time goal
I recommend shooting for 20 minutes. It's a length of time that is long enough to make significant progress, but short enough to fit into even the most busy days. Pick a time goal that you know for sure you can accomplish on a daily basis.

If 20 minutes is too much, shoot for 10. Pick a goal that seems super easy. The key is to declutter even if you're exhausted and forgot to do it until 11 p.m. If it seems easy, you're more likely to follow through on a consistent basis.

👉 Overwhelmed by a messy house and don't know where to start? Grab this free decluttering checklist and learn the one thing that's keeping you from decluttering your home.

Determine the time of day
Pick a time of day that would work best for you to spend 20 minutes decluttering. Many productivity experts will tell you that you first thing in the morning is when we're the freshest at making decisions, but don't worry, I won't tell you that.
As a night owl, I get some of my best work done after the kids are in bed at night. In fact, I think that being decision fatigued can come as a benefit in decluttering. The more you feel like you just can't stand the clutter and wish a magic fairy would just come and take it all, the better you are at ruthlessly getting rid of stuff you never use.
Work on a specific area
You'll see more progress if you pick one area and stick to it. Let's say you aim for twenty minutes every day but you miss a day. Even so, in one week, you've spent two whole hours decluttering.
When you focus on just one area at a time, you'll see massive progress, which will motivate you to keep going.
Tools you'll need
You'll want to have a bag or box for each of these three areas: trash, donate, and keep. You might need to pack keep items away into a box and put it in another room to create more space to declutter.
Be consistent
This tip is probably the most important. Spending 20 minutes every day for an entire year adds up to 121 hours! That's the equivalent of three full time work weeks.
You can make huge progress with only twenty minutes each day, but the key is that you have to do it each and every day. The progress you make will motivate you to keep going.
Success!
Okay, so you're not going to get the quick turnaround like you would if you took an entire weekend to dive up to your eye balls in decluttering. But this way is much less painful and it doesn't take much time at all to start noticing a big difference.

Decluttering for only 20 minutes a day allows you to take care of your family or go out with your friends. It accounts for unexpected events that arise or dwindling motivation. It is a method that works no matter what life throws at you.

👉 Overwhelmed by a messy house and don't know where to start? Grab this free decluttering checklist and learn the one thing that's keeping you from decluttering your home.

Pin for later…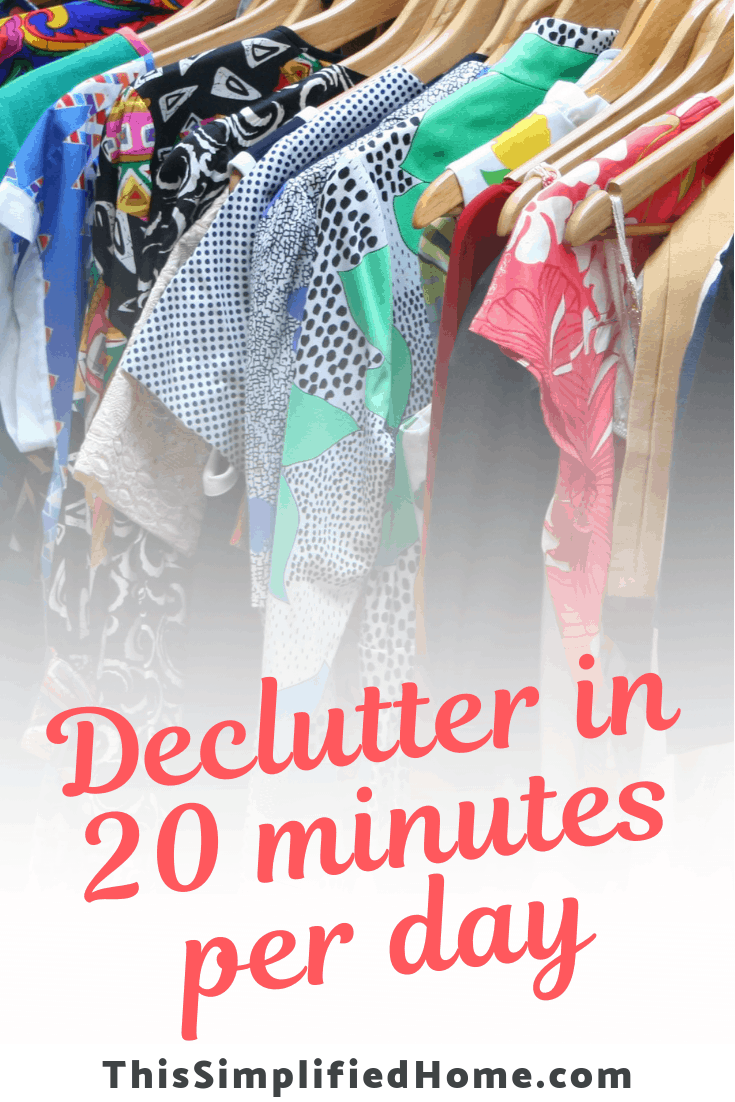 If you liked this post, you might like…